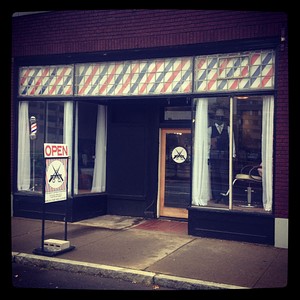 Location
36 South Union Street, Rochester, NY 14607
near East Avenue
Hours (as of October 2014)
Tuesday: 9:00AM to 5:00PM
Wednesday - Friday: 9:00AM to 7:00PM
Saturday: 9:00AM to 5:00PM
Services available by appointment
Phones
585 478 2698
Email
<thegentlemensbarber@gmail.com>
Website
http://thegentlemensbarber.com
Facebook
Yelp!
FourSquare
The Gentlemen's Barber
is a
barbershop
in the
East End
, south of
East Avenue
. This barbershop offers men's haircuts, hot-towel straight razor shaves, tonic scalp massages, and hot-towel steam facials. All services are by appointment and can be scheduled through the the shop's website or Yelp.
In their own words
Find The Gentlemen's Barber on South Union Street just minutes away from Park Ave, between Monroe Ave and East Ave. They offer a premium men's barbershop experience with traditional, modern, and urban barber services. All of the barbers at The Gentlemen's Barber are New York State Licensed Barbers, that are fully trained and qualified to perform tonsorial services for men using scissors, clippers, and razors. This Barbershop offers its services appointments for all customers 18 years and older.
For The Gentlemen's Barber, quality is more important than quantity and that is why our Master Barber, Michael Rechichi guarantees the quality of his service. If in 7 days after your service you feel that your cut is not what you expected it to be, come back and they'll fix it for free.
Awards
Voted "Best Barbershop" in City Newspaper's 'Best of Rochester' Awards in 2015.1
Comments:
Note: You must be logged in to add comments
---
2012-10-06 00:22:22 Friendly barber, gives an excellent cut. Most relaxing shave & scalp massage I've ever had! —EricStratton