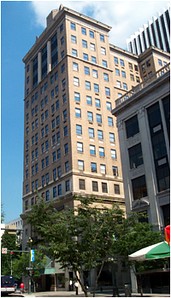 The Alliance Building is a 15-story, 167,000 square-foot building building downtown. It is located on the corner of East Main Street and Stone Road, in the heart of the Midtown District. A majority of the first floor is used for retail, including several businesses relocated after Midtown Plaza closed. There is also an entrance from the first floor into the Chase Tower retail area.
Development
A
plan was proposed in 2011 to add 113 residential lofts, plus additional retail and office space. Following the discovery of
extensive asbestos, the deal was cancelled. According to the City of Rochester website, it is still "pending approval," so perhaps it was instead put on hold.
In 2015 DHD Ventures announced they have partnered with Morgan Management to convert the building into 130 residential lofts, plus keep the existing retail space. The second and Third Floor will become the Alliance Ball Room for the Hilton Garden Inn Downtown which is next door.
Building Tenants
Comments:
Note: You must be logged in to add comments