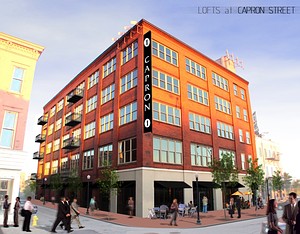 The Lofts at Capron are twenty for-sale lofts in a five-story, 40,000 square-foot, mixed-use building off South Avenue in the Washington Square Neighborhood. It is located on the southeast corner of Washington Square Park, west of Geva Theatre and was developed by Riverview Lofts, LLC.
The first floor contains indoor parking and a gastropub called The Vesper.
The second to fourth floors consist of five condos each, topped by four penthouses on the top floor. As of December 21, 2011, all twenty condos have been sold. A 2500 square-foot rooftop deck provides great views of the city skyline.
Comments:
Note: You must be logged in to add comments
---
2016-10-06 11:06:36 A new restaurant called The Vesper has opened where Nikko was. —DE