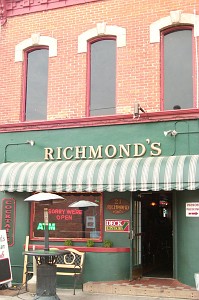 Location
21 Richmond St, Rochester, NY 14607
Hours (as of August 24,2021)
Open
Phone
585 867 4004
Website
Facebook
The Richmond is a bar and grill on Richmond Street in the East End
As Richmond's it was a popular hang-out for local TV celebrities and was featured in the movies The Alphabet Killer and The Great Chicken Wing Hunt. It closed in early 2011 and reopened in January 2012 under new ownership with a full menu. By August 2014, Richmond's was again under new ownership with an expanded menu and new hours, finally closing in 2020.
On August 24 2021 The Richmond opened, completely renovated, rebuilt, and cleaned up but with a lot of its old charms and signature architectural and culinary elements intact. People will recognize the place but the vibe and feel are substantially revitalized. According to one of the owners ( Ralph Vincent DI Tucci - owner of Cristallino Ice Company and Bar Mecca next door), the intent is to preserve the place but also make it a bit more upscale but comfortable enough that you won't feel out of place or that the place is too fancy- welcoming to everyone.
Signature Cocktails, Classic Cocktails, good liquor selection, and a quite respectable and thought out beer selection to satisfy almost everyone without going overboard.
Same applies to the food menu. Personally, I would characterize it as Appetizers or bar food. But nicely done bar food with pizza from Dough Boyz on the weekend. Gone is the stage on the first floor replaced with comfortable mid-century style seating. Upstairs is redone with seating in the front, windows you can actually see out of, and a lounge-like atmosphere. Of course, the rear patio has been totally overhauled and spiffed up and is a pleasant area to hang out on too.
Comments:
Note: You must be logged in to add comments
---
See Archive Page for comments prior to 2021 (under previous name and ownership).
---