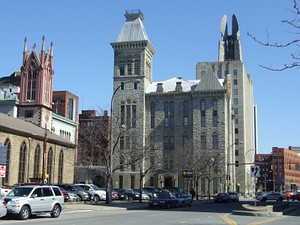 Early City Hall, Mar 2009 BradMandell
The Rockford served as Rochester's City Hall for over a century. It is often known as Old City Hall and is located in the City Hall Historic District. The building is bounded on three sides by West Broad, South Fitzhugh and the street Irving Place. It was listed in the National Register of Historic Places in 1974. The five-story building was renamed Irving Place in the 1970s when the building was renovated and converted into offices, retail space, and a bar restaurant in the lower level. One restaurant was Christopher's. In 2023 the buildings name changed to THE ROCKFORD after it was converted to luxury boutique apartments.
The Rockford was built using Lockport stone. The architecture is a combination of Romanesque and Ruskin Gothic styling. At the time of its construction, the Erie Canal ran through town where today Broad Street is (the subway runs in the old canal bed under this street). When Irving Place opened, the Broad Street entrance of the building opened directly onto the canal.
In the early 1970s the Rockford was bombed by Mafia members on Columbus Day in the infamous Columbus Day Bombings.
Photos
Comments:
Note: You must be logged in to add comments