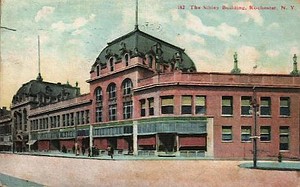 Postcard depicting The Sibley Building. c. 1908
The Sibley Building was for many years the location of Sibley's. At 1.1 million square feet, it was once the largest department store between New York City and Chicago. The end of an era came in 1989, however, when Sibley's left the building and was purchased and rebranded as Kaufmann's two years later. Monroe Community College became a prominent tenant until deciding in 2012 to relocate to the Kodak complex in the High Falls District.
The Sibley Building is located in downtown's Midtown District, whose name reflects its historical significance as one of the Northeast's major shopping districts.
Not to be confused with the almost eponymous Sibley Triangle and Hiram Sibley buildings.
Redevelopment
With the pending departure of MCC, the Sibley Building became nearly vacant except for a Rainbow clothing store and the City traffic court. The building was subsequently purchased by
the Winn Company, who intend to turn it into office, retail and residential units. Renovations started in 2013 with updates to the escalators and lobby renovations and will continue over the next five years. A Rochester Police Substation was added in 2013.
According to the website: Construction of new apartments in the upper Tower levels of The Sibley Building will begin in 2014. Both Upscale Lofts and Affordable Residences for age 55+ will be available for rent in 2015.
Apartments
Food and Drink
Tenants
Retail
References
Comments:
Note: You must be logged in to add comments