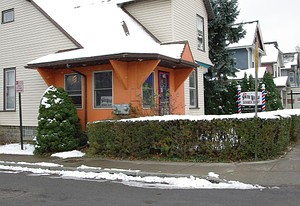 Love the Paint Job, 12-2010
Location
720 South Ave Rochester NY, 14620
Hours (as of June 2008)
Tuesday - Friday: 12:00PM - 6:00PM
Saturday - 10:00AM - 3:00PM
Phone
585 473 5570
Wheelchair Accessibility
No
Website
Facebook
The South Wedge Barber Shop is a barber shop in the South Wedge run by Gina and her daughter Jennifer. It was named Best Barbershop in City Newspaper's 2012 Best of Rochester contest.
Rates:
Regular cut: $16.00
Senior cut: $14.00
Hair coloring: $35.00
Other Info:
Watch out for the turtle on your way in.
Comments:
Note: You must be logged in to add comments
---
2009-10-20 12:19:55 Definitely the coolest salon in Rochester! Very eclectic decor. Reasonable rates and top notch hair cuts. I love the side gallery too! —TabbyS

---
2009-10-20 15:46:56 GINA & JENNIFER ARE THE BEST BARBERS IN TOWN. YOU CAN'T GET ANY BETTER ! —MIKEFL
---
Admin Note: Both TabbyS and MIKEFL's comments came from the same computer (IP of 70.101.54.189) and may be the same person.
---
2009-10-21 12:45:50 That's funny! We are husband and wife who both go for our haircuts together at the barber shop! we love it! —TabbyS
---
2011-12-01 12:54:52 I just came out of here this shop with a fantastic cut by Gina. She seems like a wonderful and authentically warm person, the shop is cozy, the price is right, and I look forward to going back! Thanks Gina! —breaker