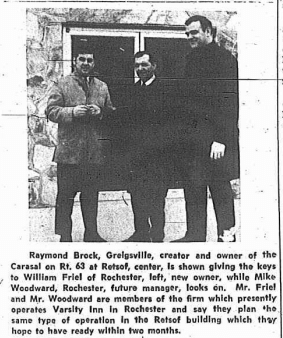 From the Livingston Republican, February 15, 1968
Former Location
1509 Scottsville Rd, Rochester, NY 14623
Status
CLOSED (as of March 1982)
Varsity Inn was a popular bar in the 1960s and 70s in Rochester. It was located on Scottsville Road, and opened in 1968.

It was also a popular music venue, with several notable local bands playing there as house bands.

It closed in March 1982.

Excerpt from the Livingston Republican on February 15, 19681:


FRIEL BROTHERS TO OPEN VARSITY INN, WAS CARASAL


William Friel and his brother, Jack Friel have purchased the Carasal Party House, on Route 63 that was built and owned by Raymond A. Brook, local contractor. The Friels will cater to the over 18 year old patrons. College students will have live music and will be made welcome at the Varsity Inn, which will be opening soon. The Friels purchased the dance hall and five acres of land to insure adequate parking facilities. Ray Brock, who wishes the Friel boys success in their venture, said, "Jack and Bill know what the college kids want and they will try to satisfy them."
Comments:
Note: You must be logged in to add comments