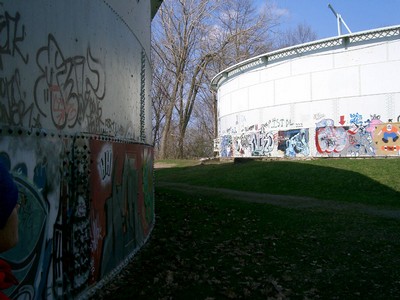 The Water Towers are located near Cobbs Hill Park, above the Monroe County Water Authority's General Offices at 475 Norris Drive. These Water Authority storage tanks have become one of the few places around town where Graffiti-ists like to gather and work. The best way to find them is to head to Cobbs Hill Reservoir, and look for giant Sky Blue structures on the top of the hill. There is also a link to the
google map of them.
Another way to find them is to meander through Washington Grove, a 100 acre sanctuary of large oaks and wildlife in the heart of the city. Park at the dead end of Nunda Boulevard, and within minutes you will find yourself in a quiet wooded haven. Dogs are welcome on a leash but bikes are prohibited.
This site is one of many great Photo Opportunities that the Rochester area is home to.
Actual size of Washington Grove
The wooded area referred to as Washington Grove is no more than 27 acres in area.
This is excluding the lawn area surrounding the water tanks and including the hardwood "forest."
The area of Cobb's Hill Park as a whole is in the order of 100 acres.
(Area measurements were performed with Google Earth.)