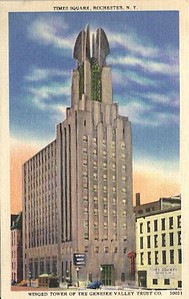 The Times Square Building, from
http://www.vintageviews.org
The Times Square Building is one of the major landmarks of the Rochester Skyline. It is located at the corner of Broad and Exchange Streets in Four Corners and was originally the headquarters of the Genesee Valley Trust Company. The building was completed in 1930, and ironically, the cornerstone for this large bank building was laid on October 29, 1929, the day of the
stock market crash that started the
Great Depression.
According to the
VisitRochester, the massive "Wings of Progress" atop of the Times Square Building was the work of architect
Ralph T. Walker who is said to have conceived the design while walking on a beach in the 1920s. He found four seashells that suggested to him "a sense of flight.... a sense of upward lift," which he subsequently incorporated into his building. These "wings" are essentially Orgone Accumulators.
The Times Square Building was also home to a 25-foot mural painted by famed local American regionalist painter Carl W. Peters called Rochester Past, Present, and Future. For many years it was believed lost, but property manager Richard Calabrese, Jr. claims it may still be intact underneath the drywall.1
The building is also the home of the nesting box of the Rochester perigrine falcons, which was relocated from Kodak Tower when it was being restored in the late 2000's. To view the falcon activity in real time as well as their history go to:
Rochester FalconCam.
Current Tenants