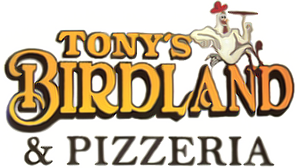 Tony's Birdland & Pizzeria is a pizzeria serving pizza, chicken, subs, and more.
Comments:
Note: You must be logged in to add comments
---
2008-12-13 15:57:51 Both locations taste the same and both are amazing! Me and my family and friends have been coming here since the 80's. Sauce is second to none! The Chicken finger dinner is the best! The Fingers are huge and different and better than most other places, and their homemade mac salad is the best in town. Not watery and not too rich either. I also order the Tony Plate sometimes and they are a good interpretation of the "Garbage Plate." My girl gets the 2 breast special which is 2 big fried chicken breasts smothered in Tony's Sauce which is like Country Sweet but better, and then comes with 2 sides and you have to get the mac salad.
The subs are very good. Good tuna subs.
Never had the fish fry but had an order of clam strips recently and they came with a great homemade tarter sauce.
Never had the pizza. Can't speak for that. But basically over the last 20 years, I have had pretty much everything on the menu and have never been let down. —CJM8232

---
2010-04-26 13:58:53 The famous Tony's Birdland now has a new website at
http://www.tonysbirdland.com! Check it out and take a look at there online menu along with special coupons that you can print and use towards your purchase to save money. Also now we have teamed up with
http://www.rochestersauces.com to do our shipping for our great sauces,which i might add are a must for chicken wings and so much more! —Rochestersauces.com
---
2011-06-28 14:30:22 Wow! I tried Tony's the other night and it was amazing. We each got the half chicken dinner with the sweet and sour sauce and it was delicious. The chicken was moist and perfectly fried, and the sauce, you could put it on shoe leather and it would taste good, as said ealier it's similar to country sweet but even better. The mac salad is also very good, and I'm very picky when it comes to mac salad. The Dewey location is open even though there is construction going on in the plaza so don't let that deter you. I will definately be back very soon for more. —carolturo