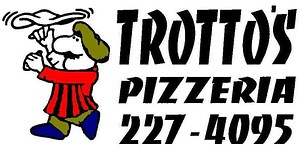 Trotto's Pizzeria is a pizzeria located in the Creekside Plaza on Fetzner Road in Greece.
Comments:
Note: You must be logged in to add comments
---
2010-03-03 12:05:23 A pretty impressive, generic pizza. —nickelcokes
---
2010-05-26 13:19:39 We now have a website at
http://www.trottospizza.com were you can save money with our coupons,directions to the store and a online menu.
We have also linked up with Rochestersauces.com to bring you all of Rochester, N.Y. Famous foods such as Tony's Birdland,Boss Sauce,Fresh Italian Sausage and so much more. Better yet it can now be delivered to your doorstep. —Rochestersauces.com

---
2011-02-22 14:40:32 In my opinion the best most consistent pizza in Greece. A lot of people I know agree too. —CJM8232