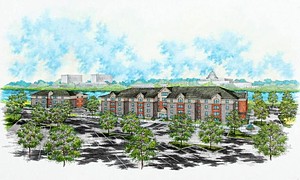 An artists' rendering of the complex from the parking lot, facing the river. Click to expand.
Location
1236 South Plymouth Avenue, Rochester, NY 14611
Occupant(s)
Residential
Wheelchair Accessible?
Yes
Pets
No
Property Manager
University of Rochester
Phone - UR ResLife
585 275 3166
Websites
Official
FAQ
Flickr
Architect
Riverview Equity I, LLC
Construction
2008
The Riverview Apartments are a University of Rochester residence hall for undergraduate upperclassmen located in the Plymouth-Exchange Neighborhood, bordering the 19th Ward. They opened in Fall 2008 and consists of 120 fully-furnished units ranging from two to four bedrooms. The five buildings are between three and four stories high. Because the apartments are new, they offer amenities not available in older dorms, such as air conditioning and separate living rooms and kitchens. In the summer months some of the apartments may be used for conferences and other residential programs. Each building has laundry and vending facilities.
The apartments are located less than a ten-minute walk over the pedestrian bridge extending from Plymouth Avenue to the UR River Campus. They are also served by the Green Line
shuttle bus, which is free for UR students, staff, and faculty. The parking lot accommodates roughly 300 cars.
The Riverview Apartments are part of the University of Rochester's extensive Brooks Landing Project. The groundbreaking ceremony was held on June 27, 2007.
University of Rochester Press Release - June 27, 2007
Comments:
Note: You must be logged in to add comments
---
---
2007-10-28 20:47:12 The actual buildings going up appear to have much less setback from Plymouth than the renderings suggest. —EricLarsson
---
2008-01-27 20:53:43 @Eric- Here is a more accurate site plan. I think the rendering above is of the buildings adjacent to the river, not adjacent to Plymouth Ave.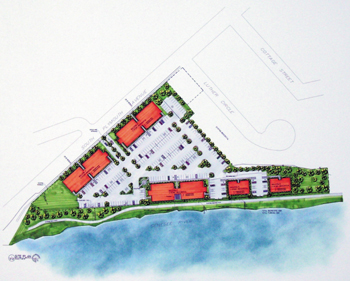 —MichaelFlatto
---
2008-02-12 17:44:21 does anyone know how much the rents will be? —CristinaPrado
They are student housing only. —EileenF
---
2008-06-10 23:32:56 Feelings about this development among 19th Ward residents seem mixed (Yes, technically this is in PLEX, not the 19th Ward, but it's close enough to count). Some people like the clean, new construction in a section of the city that was neglected for a very long time. Others, however, are disturbed by the large fronts with narrow openings. This latter group refers to the complex as "The Fort". —DaveMahon
---
2008-08-12 09:52:23 The
ribbon cutting ceremony was August 7 and featured Joel Seligman and Robert Duffy. The head of Residential Life was quoted in the press release as saying, "The complex filled to capacity and has generated a lengthy waiting list." —DaveMahon