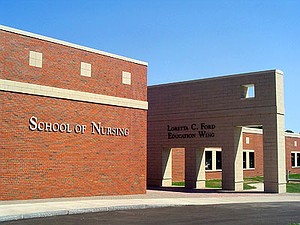 The University of Rochester School of Nursing, part of the University of Rochester Medical Center (abbreviated URMC), is a national leader in nursing education. They are nationally recognized for their commitment to quality education and the creation of new knowledge. But this commitment extends beyond those two goals. They are determined to do their part to contribute to the nursing profession as a whole, to influence how nursing is practiced and perceived, to address the national nursing and nursing faculty shortages, to produce the health care leaders of tomorrow. Ultimately, it really seems to be about improving the quality of life for all those they touch.
The University of Rochester School of Nursing's diverse array of programs leads to a variety of degrees, from the BS to MS degrees in Leadership and Health Care Systems to PhD degrees. They also have post-doctoral programs and offer continuing education courses through The Center for Lifelong Learning. They are constantly developing new programs and new ways to teach. They update their curriculum every year and also find ways to improve each course.
Programs are based on their Unification Model, an approach they pioneered about thirty years ago that is now a model for other nursing programs across North America . Under this model, faculty has blended practice and research into nursing education. Their clinical faculty are active practitioners. Their students learn not only how to care for patients, but also how to do clinical research, and how to translate those research results into the most effective patient care practices.
Admission and program requirements respect your individuality, knowledge, and experience. For example, their Accelerated Bachelors Program for Non-Nurses provides an intensive, on-site educational experience that allows individuals with a bachelor's degree in another field to become Registered Nurses in just one year. Their RN to BS degree program gives nurses credit for real-life learning experiences and they transfer most of your prior credits. Course work for this program is flexible with evening and block scheduling of classes and on-line course options.
Comments:
Note: You must be logged in to add comments