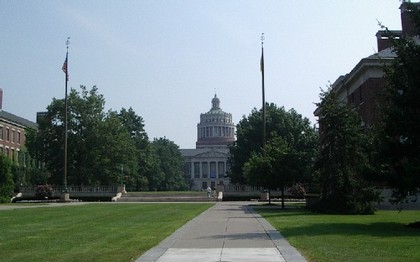 The University of Rochester is one of two universities and several colleges in Rochester, NY. Although small, it is a nationally recognized university with notable influence on academic and medical research, especially in the areas of optics and cognitive science. Originally located on Prince Street, its hub and main campus is now the River Campus.
Since 2005 the University of Rochester, with its affiliated Strong Health system, has been the largest employer in the Greater Rochester area. The University of Rochester is a multibillion dollar institution which includes: the College of Arts & Sciences, the Hajim School of Engineering & Applied Sciences, the Warner Graduate School of Education, and the Simon Graduate School of Business on the River Campus; the Eastman School of Music in downtown Rochester; the School of Medicine, School of Nursing ,and graduate school in the Medical Center; the Laboratory for Laser Energetics and Center for Optoelectronic & Imaging on the South Campus; Strong Memorial and Highland Hospitals; the Memorial Art Gallery; Mees Observatory in Bristol Hills; the University of Rochester Press on the Mount Hope Campus; and many other operations.
UR is also the home of Open Letter Books, a non-profit publisher of contemporary international fiction and poetry.
In October 21, 2011 President Seligman announced the launch of the public phase of a $1.2 billion Meliora Challenge fundraising campaign to benefit all areas of the University.
Zagster has a station there.
Interaction with the City
Some think that UR students are typically uninvolved in Rochester and mostly stay on their island-like River Campus, which is bounded to the east by Mount Hope Cemetery and to the west by the Genesee River. Many, particularly freshmen, might tell you that the highlight of their week is when they take the free Saturday bus to the mall and Wegmans in Henrietta. Fortunately, more free bus routes have been added over the last several years and it's getting easier for students to leave campus. Areas often frequented by students include Park Avenue, East Avenue, Alexander Street and the South Wedge.
In an effort to get students to visit more off campus sites, the university created a program known as RED Rochester Every Day. Most students know this as the "Red" program, and it allows them to receive special student discounts at many businesses in the Rochester area.
More recently UR went even further and developed College Town in the Upper Mount Hope neighborhood, adjacent to URMC. Work began in May 2013. See the page for more information.
The Student Body
The student body at the University of Rochester is incredibly diverse. Students come from a variety of backgrounds, and many can boast membership to several campus organizations. Among these organizations are community service groups, a capella troops, sororities and fraternities (located on the Fraternity Quad), and intramural sport teams. See
UR View Clubs Page for a complete list of campus clubs.
Refer to the International Community page for information about the role and integration of international students into campus and community life.
Compared to other Universities
US News and World Report ranked the University of Rochester 34th of all the universities in the United States, tied with NYU, Boston College, and University of Wisconsin-Madison. 1
UR was named one of the
Top 25 New Ivies by Newsweek/Kaplan's 2007 "How to Get Into College" guide.
The MPAA has listed the University of Rochester as #17 of the top 25 schools for movie piracy in the nation. 2
Places

PLEX/19th Ward

Dining Area

Downtown/NOTA

Living Areas

Medical Center Campus

Mount Hope Campus

River Campus

South Campus

Activities

Official Groups

Athletics

Traditions

Statistics

Fall 2006 Enrollment Undergraduate Total: 4,608 (Full-time: 2,319 men, 2,029 women; Part-time: 56 men, 131 women)


Fall 2006 Enrollment Graduate/First Professional Total: 2,900 (1,190 part-time)


Tenure Track Faculty: 1,258


2007-2008 Tuition & Fees: $34,380 per year


2007-2008 Total Charges (including room/board): $44,980

Services

External Links
Departments:

Libraries
UR has several libraries open to both the University community and the public.
Awards
The University of Rochester was voted "Best University/College" in City Newspaper's "Best of Rochester" awards in 2010.1
Noteworthy Trivia
Although UR was founded in 1850, women were not admitted until 1900. The trustees promised coeducation on the condition that its advocates raise $100,000 by a set date. When the deadline came and money was still short, Susan B. Anthony famously pledged her entire life insurance policy (although the money was returned to her after a surprise donation from another source). Female students were not entirely welcome, however, and UR continued as an uneasy coed institution until the construction of the River Campus, its present location, in 1930. The men were moved there, and the women remained at Prince Street until 1955.


The present-day Optical Society (of America) grew out of an organization founded by a group of UR professors, along with scientists from Kodak and Bausch & Lomb called the Association for the Advancement of Applied Optics. Their first meeting was held in 1916 at UR's Physics Library. Its success paved way for the OSA, which later absorbed the AAAO as its very first local section. That Rochester was the birthplace of such an organization is not surprising, given its prominence in the new field of applied optics at the time.


Gertrude Herdle succeeded her father George as second director of the Memorial Art Gallery in 1922, making her the nation's youngest director of an art gallery. Sister Isabel, a UR graduate who had also studied at Harvard, joined her as assistant director ten years later. Despite being young women in a male-dominated field, the two sisters practically made the MAG into what it is today, often running on shoestring budgets and even having to split a salary during the Depression. Their careers spanned half a century. Gertrude died in 1993, and Isabel in 2004 at age 99.


UR's Institute of Optics, founded in 1929, was the very first of its kind.


Winston Churchill's very first speech to an American audience was at the UR 1940 commencement. Churchill was accepting an honorary doctorate but was not actually present - the speech was broadcast live from London.


In 1969 the nascent Black Students Union staged a sit-in at the Faculty Club, demanding increased black enrollment and more black professors. The sit-in ended peacefully when it was learned that most of their demands were already on UR's agenda.


The Empty Closet was founded at UR in 1971 by a student group called the Gay Liberation Front. Today it is New York's oldest GLBTQ paper and is now published by the Genesee Valley Gay Alliance.


W. Allen Wallis, President and Chancellor of UR from 1960 to 1982, had many famous friends, including Richard Nixon, with whom he had served on an economics advisory committee under President Eisenhower. Wallis offered Nixon an honorary degree, prompting much protest from the UR community. Further controversy was averted when Nixon stated that it was not his practice to accept such things. (Another of Wallis's friends was Milton Friedman. They had gone to graduate school together.)


The annual event ArtAwake was founded by members of the UR Urban Exploring Club.


Current news about the university can be obtained from the student-run Campus Times, or Currents produced by the faculty/staff.