The University of Rochester Medical Center (a.k.a. URMC or simply the Medical Center for short) is one of the top academic medical centers in the country and the only one in our area. The hospitals, research centers, physicians' offices, schools and health services attract patients and doctors from all over the world. The Medical Center is made up of many parts, all devoted to the same three goals: Providing highly advanced medical care, discovering cures for the world's most challenging diseases, and educating the doctors, dentists and nurses of tomorrow. This, they state, is the only way to provide "Medicine of the Highest Order."
Main Campus

View of the Kornberg Medical Research Building (KMRB) from the intersection of Kendrick Road and Elmwood Avenue.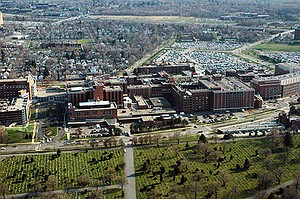 Areal view of a portion the University of Rochester Medical Center, with Mt. Hope Cemetery in the foreground. Most of the Medical Center is located in the city's Upper Mount Hope neighborhood. This 4-million-square-foot complex is situated between Elmwood Avenue, Mount Hope Avenue, Genesee Valley Park, and Lattimore Road. It offers literally every medical service known to man, with the exception of long-term in-patient psychiatric care. (You will want the Rochester Psychiatric Center for that.) Practices here include:
The University Farmers Market is run out of the Flaum Atrium each spring from March to May. The atrium also has a Finger Lakes Coffee Roasters kiosk. Two additional kiosks are located near the main entrance on Elmwood Avenue.
The undergraduate River Campus is nearby within easy walking and biking distance. The proximity of both campuses spurned the construction of UR's College Town, which includes the University of Rochester Official Bookstore, serving both the River Campus and URMC.
Further Afield
The Medical Center also includes many affiliated practices and hospitals throughout the region.
See Also
Comments:
Note: You must be logged in to add comments