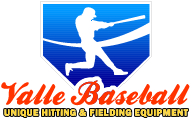 Location
4659 Ridge Road West, Spencerport, NY 14559
Hours (as of March 2010)
Monday - Thursday: 10:00AM to 9:00PM
Friday: 10:00AM to 8:00PM
Saturday: 9:00AM to 8:00PM
Sunday: 10:30AM to 9:00PM
Phone
585 349 7278
Website
http://www.JohnValleBaseball.com
Valle Baseball is a baseball equipment store and indoor batting cage/training facility located next door to Sail On Carpets on Rte 104.

Over 150 baseball gloves with special pricing.


Relacing needed for a broken web on your glove?
Shop Online!
Checkout the Valle Baseball Online Superstore
http://www.vallebaseball.com. The Source for the BEST Discounted Baseball and Softball Gear on the Market!
Become a better hitter with our wide selection of baseball swing training aids. Or "make the play" with our premier line of Valle Pro Baseball Gloves.
Comments:
Note: You must be logged in to add comments