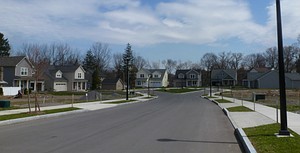 The development near completion, April 2014.
Valley Court is the redevelopment of the former site of a demolished apartment complex down the street from Brooks Landing. 29 single-family homes designed by Woodstone Custom Homes, Inc. will be built on a cul-de-sac. Prices start at $140K.
The project was completed by November 2015.
Comments:
Note: You must be logged in to add comments