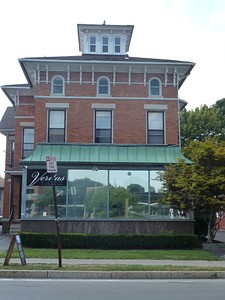 Veritas Wine Bar offered wine and craft beers from around the world, by both glass and bottle. Food was available from Pittsford Farms Dairy & Bakery. They were located in the Alexander Neighborhood.

Veritas held monthly wine education classes with guest speakers and specialty tastings. They also hosted their own "Nerd Nite," an internationally recognized social gathering of self-declared nerds.

Grand opening was August 17, 2012. Owners were Paul and Amy Powers, Rochester natives who became wine aficionados while living in New York City in the late 1990s. The owner of the building is Buckingham Properties, who have been working to revitalize the area around Alexander Park since the demolition of Genesee Hospital.
Veritas closed July 15, 2016 with the following message on Facebook:
We wish to share with everyone that after 4 years of being open, we have decided to close Veritas. As with any small business, a significant portion is the result of blood, sweat and tears, which we certainly contributed. But another portion falls to circumstances out of one's control. The development of the Alexander Park neighborhood was one such factor we were unable to determine. Due to unforeseen complications and setbacks, what we expected to happen sadly did not. It is disappointing that we weren't able to see our business thrive in a bustling new residential community, but we have no regrets. We have treasured the last 4 years and have enjoyed meeting so many wonderful people...tasting, teaching about, and selling incredible wines and beers.....and being a part of the Rochester business community at large. As mentioned in the past, we have felt great value in being a part of the educational as well as fundraising opportunities we were able to provide while owning our small business.

Thank you to everyone who has supported us and valued the need for unique businesses in Rochester. We are very grateful.

Our last day open will be Friday, July 15th. We hope you can stop by to have a drink with us. We can toast to the unknown adventures we all still have in our future!

With our best wishes to you all,


Paul and Amy Powers
References
Comments:
Note: You must be logged in to add comments
---
2014-01-01 15:22:07 Went for New Years Eve. Owners were very attentive. Great selection of wine by the glass, half glass or bottle. Cozy and intimate. Will be back and bring and will bring out of town guests. —scotthendler
---
2017-01-13 21:03:16 Does anyone know what is at this location now? I drove by it today and it was open. —DE