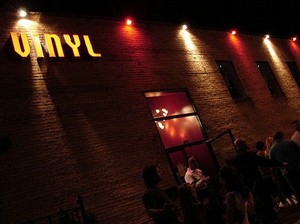 Location
291 Alexander Street, Rochester NY, 14607
Hours (as of January 2015)
Thursday - Saturday: 10:00PM to 2:00AM
Phone
585 310 2214
Wheelchair Accessible
Yes
Alcohol
Yes
Facebook
Facebook
Instagram
Twitter
Vinyl is a longtime night club in the Upper East End/Alexander Neighborhood. They specialize in '80s-90s party music. Features include a lounge, casual bar, pool table, dart boards, and other games. Throughout the week they offer a variety of specials and giveaways.
Comments:
Note: You must be logged in to add comments
---
2007-10-01 14:32:43 My friends and I decided to check this place out this past weekend as one of them had a 20$ gift card that had all the Ronnie Davis Group bars on it. After passing the friendly enough bouncer and entering a nearly empty club, we were told they would not honor the gift card that clearly had the bars name on it. Apparently they would rather have an empty bar then 8 patrons that would clearly spend more then 20 dollars. At this point we left and vowed not to return. There are much better bars that are well managed in this city. Spend your dollars elsewhere. —DarrenKemp
---
2007-10-17 17:10:10 Since Mr. "Ronnie" Sanchez opened the door... Here's my longwinded view of Vinyl.
We were charged a cover charge 2 months ago when we went here. There was not a band playing that night.
My buddy was real drunk and he's harmless but his actions can be misconstrued. The bouncer actually came up to me and told me that my buddy was 30 seconds away from getting kicked out so calm him down. In my experience, most bouncers jump at the chance of the "excitement" of getting to kick someone out. It was cool of him to do that...but he did kick him out 5 minutes later.
Reading the description above, my experience of the upstairs does not fit with what I would think of when I hear, "enjoy the city's mature professional crowd while sipping on a martini" I am a mid 30s professional and feel old there. Most people are drinking beers, mixed drinks and doing shots. It says there is a lounge—I only saw half a dozen small couches right next to the dance floor. The outdoor deck is nice during the summer.
In my opinion, the downstairs is more like an "upscale" frat house basement-party room. The "other games" are a few arcade games and I have never seen anyone use the dart board. I like drinking down there but would not classify it as "casual bar" area. Again, you are in a basement and it feels like one.
One more thing—don't forget your credit card there on a Saturday night. They won't give it back until they re-open on Wednesday. (And if there are any workers there on Monday or Tuesday, don't will tell you they don't have access to the safe. No clue if that is true or not, I don't have any reason to believe it isn't.)
I don't mind going there but in my opinion, the above description is more of a marketing message than a non-biased description. The place is full of college aged and "just out of college" aged people with the occasional cougar. It's fun if that is what you are looking for but it isn't the mature, trendy place I see described above. Just my opinion.

---
"2009-12-24 11:09:43" I have worked at Vinyl for the past year and a half, and I have no idea what these specials are... There has always been a cover charge of $3 and has always been a coat check with a $1 charge. To my knowledge, they RECENTLY started opening on Wednesday night, and I have never seen them open on a Thursday. The manager at Vinyl is usually at Soho on Thursdays. As for leaving your credit card at Vinyl, I would assume that only the manager can get in the safe and if he isn't there, then the credit card cannot be retrieved. The crowd is a mix of ages between 21 and 60. It is also a hotspot for ladies' birthday parties and bachelorette parties.
On a side note, limo groups are given cards by their drivers that are supposed to get them into Vinyl for free. Not so. Vinyl does not have limo party deals. You might be able to work something out with the bouncer and door girl, but it's usually only if the limo party is a large group. —CK

---
2011-02-25 10:38:31 I saw a bouncer yelling at a young woman last night. She was barely over 5 ft and not belligerent in any way. He put his hands on her shoulders to try to pull her away from the dance floor and out of the club. This was beyond disrespectful.
I will not go to this club again, and would advise other women to be aware of how the club treats you. There are plenty of other good bars around Alexander and East, and this one is not worth it. I used to like Vinyl a lot, but after seeing this, I'm disgusted. —femalestudent