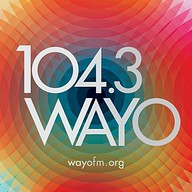 Frequency and Band
104.3 MHz FM
Licensed Power
39 Watts ERP (low power FM)
Transmitter
Studio and broadcast tower located at the Fedder Industrial Park (1237 E. Main)
Phone
585 203 9296
Mailing Address
WAYO 104.3 FM, 1237 East Main Street, Rochester, NY 14609
Ownership
WAYO 104.3 FM is an affiliate of the Multi Use Community Cultural Center (MuCCC).
Website
http://WAYOFM.org
Wikipedia
WAYO-LP
WAYO-LP 104.3 is a non-commercial radio station broadcasting to the City of Rochester and environs (as well as online) that provides expansive musical and cultural expression. Programming explores the unique possibilities of radio by emphasizing creative freedom, human personality, and diversity of voices. The station actively pursues engagement with creators and cultural organizations. WAYO uses
Low-power_broadcasting as a non-commercial educational broadcast service under FCC license.
WAYO's show schedule is
here.
Online broadcasting began on November 30, 2015. Terrestrial radio broadcasting at 104.3 FM began on January 4, 2016. (Initial work on the station began in January 2012.)
Comments:
Note: You must be logged in to add comments