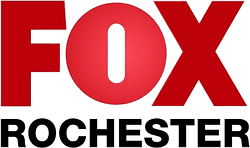 This is about the Rochester, New York station.
WPXN-TV in New York City, also channel 31, used the WUHF call sign briefly in the 1960s.
WUHF is a broadcast television station in Rochester, affiliated with the
FOX network. It broadcasts its HD digital signal on channel 28, and is seen locally on Time Warner Cable channel 7. Its transmitter is located on Pinnacle Hill in Brighton, New York. The station's license and other FCC assets are held by the
Sinclair Broadcast Group, but the station is operated by
Nexstar Broadcasting Group-owned CBS affiliate WROC-TV under a local sales agreement.
History
WUHF Channel 31 began operations on May 15, 1980 as a general entertainment independent station running cartoons, sitcoms (classic and recent), movies, drama shows, and religious shows. The station was owned by Malrite. In 1986 WUHF became a charter affiliate of FOX for Rochester and then known as Fox 31. Most of the religious shows were gone by then. In 1989 Act III Broadcasting would buy WUHF. In a group deal Abry would become the owner of WUHF in 1994. By 1996 WUHF was controlled by Sinclair and eventually sold to them. In the 90's the classic sitcoms, movies, and drama shows made way for talk shows, reality shows, and court shows. Cartoons were ended on weekdays at the end of 2001 when Fox ended its weekday kids block nationwide. In 2000 the station became known as Fox Rochester (although it adopted a "Fox 31" logo in 2003), and in 2006 WUHF added The Tube music video channel on digital channel 31.2 / 28.2.

Sinclair and Fox recently finalized a six-year affiliation contract extension for Sinclair's 19 Fox affiliates, including WUHF. WUHF's affiliation contract now expires in March 2012.
Cable Carriage
In 1994, several cable systems in Canada started carrying WUHF via the Cancom communications satellite in out-of-market areas where FOX was not otherwise available, although it had been carried by the cable systems in Belleville, Ontario and other communities on the north shore of Lake Ontario since the 1980s. It is also carried in the 1000 Islands Region of the North Country in the town of Hammond (via Citizens Cable TV).

WUHF has been carried on satellite systems since 2001, and it is currently the only Rochester-based TV station seen in Canada on StarChoice.

WUHF's digital signal (Channel 28) signed onto the air in 2004 under a Special Temporary Authority.
Newscast
WUHF had produced its own 10pm local newscast since 1997. In 2003, WUHF converted its newscast to Sinclair's News Central format, which consisted of national and international news segments, weather and sports reports produced at News Central's headquarters in Hunt Valley, Maryland. The local news operation at WUHF was significantly sized down as a result.

In August 2005, the Sinclair Broadcast Group entered into a Local Service Agreement with Nexstar Broadcasting, the owners of Rochester's CBS affiliate WROC-TV Channel 8. Sinclair agreed to be the subordinate entity allowing Nexstar to control programming for WUHF. The News Central format was abandoned, and news broadcasts on WUHF ceased on September 1, 2005. The remainder of WUHF's news operation was laid off in this move. The 10pm newscast returned to air on November 1 under the title "First at 10", and currently features WROC's on-air staff.
Branding
Channels
28 (UHF, under STA) digital
Affiliations
Independent (1980-1987)


FOX


The Tube (on digital)
Owner
Sinclair Broadcast Group - Under LSA with Nexstar Broadcasting Group (WROC-TV)
Call letters
WUHF

As commercial radio became established in the United States, Congress created the Federal Communications Commission and endowed it with powers to regulate the technologies and operators of the radio spectrum. It assigned all stations east of the Mississippi call letters beginning with W and west with K. UHF stands for Ultra High Frequency, a portion of the radio spectrum from channel 14 up.
Comments:
Note: You must be logged in to add comments
---
2008-07-12 00:43:39 I'm not 100% sure, but I don't think 31.2 is around any more; on my TeleTron Mega-Converter 4000, 31.1 is it. —RyanTucker
---
2008-07-12 00:58:02 Hrmph, maybe I'll drag my OTA out and hook it up to the HDTV. Or maybe not, seems like a lot of work. Aren't there TV-o-phile message boards we can just look this up on? —JaySweet
---
2009-08-13 01:10:26 No mention of TV-Poww or Ranger Bob? —TimRoy
---
2010-08-03 22:31:14 personally i like channel 7 —doobie22