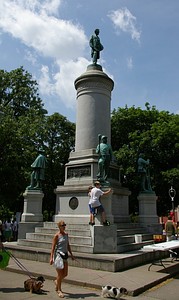 Monument in Washington Square Park, 6-2008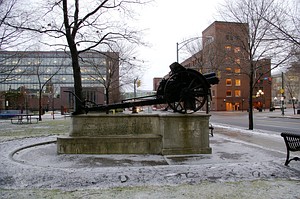 Cannon in Washington Square Park. Photo by
_yoshi_
Washington Square Park has its origins in 1817, when one of the first settlers and land owners in Rochesterville (old Rochester), Elisha Johnson, set aside some of his land to form the town's first park. It has always been, from the very beginning, a place for public gatherings with Frederick Douglass as a frequent orator. Today, the surrounding area is called the Washington Square Neighborhood.
A monument was erected in 1892 called the "Soldiers and Sailors" Monument. Created in bronze, it is a tribute to those who died during the Civil War. It has a statue of Abraham Lincoln at its center.
In the Fall and Winter of 2011/2012 the park was the location of Occupy Rochester, part of the international
Occupy movement.
The Washington Square Park Market is held here every summer.
Zagster has a station nearby
Comments:
Note: You must be logged in to add comments