The Town of Webster
Location
Northeast of Rochester, in Monroe County, New York

Town of Webster, Monroe County, New York

Google map
Webster
Detailed map (PDF)
Monroe County maps: Detail, Voting Districts
Geographical Area
35.5 sq. miles
Population
42,641 as of the 2010 census
Incorporated
1840
Town website
http://www.ci.webster.ny.us
Town Hall
Webster Town Hall
Home to Village(s)
Webster Village
Wikipedia article
Webster, Town
The Town of Webster has evolved from berry and fruit farms tended by German immigrants to an upper-middle class suburb and the home of much of Xerox's manufacturing operation. Its housing stock has grown dramatically since 1990 and has experienced substantial retail development along the Route 104 and Route 404 corridors.
Visit the
town website, the
Chamber of Commerce, and the
Historical Museum for details of the beginnings and growth of the town named after
Daniel_Webster.
Viewers may refer to Webster based on the Webster Central School District, which covers all of Webster, plus portions of the Town of Penfield.
Also check out the Webster Business Improvement District and Webster Public Library.
Recreation
Webster is home to Webster Park, an enormous plot of land (550 acres) that includes a pier for fishing and strolling along, several enclosed lodges, a baseball diamond and multiple tennis courts. There is also the Webster Aquatic Center and Webster Field House. In 2004 Webster was named the "Number 1 Sportstown in New York" by Sports Illustrated, based on the work of the Webster Community Partnership.
List of Parks

See Restaurants/Areas for places to eat.
Zip Codes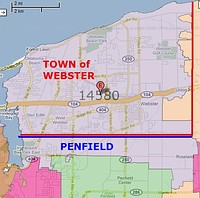 Webster 14580 Zipcode - see footnote
Some people may think of Webster as the 14580 zip code (shown in light violet in the graphic 1 to the right), which includes most of the Town of Webster, outlined by the red lines on the graphic. However, the 14580 Zip Code extends well into Penfield, with many Penfield businesses having Webster mailing addresses. This is especially confusing for the many businesses in and aroundBaytown Plaza on Empire Boulevard.
Some Webster residences in areas to the east will have the Ontario zip code mailing addresses.
Notes and References
Comments:
Note: You must be logged in to add comments
---
2009-01-03 11:13:28 Don't forget the town slogan - "Webster Where Life Is Worth Living" —EdHuehn