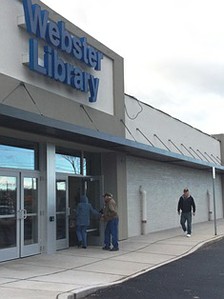 New Front Entrance as of 2016
Location
980 Ridge Road, Webster, New York 14580
In the Webster Plaza shopping area
Hours (as of July 2016)
Monday - Thursday: 10:00AM to 9:00PM
Friday: 10:00AM to 6:00PM
Saturday: 10:00AM to 5:00PM
(10:00AM to 1:00PM 6/1 - 8/31)
Sunday: 1:00PM to 4:00PM
(Closed 5/1 to 9/30)
Phone
585 872 7075
Wheelchair Accessible
Yes
Website
http://www.WebsterLibrary.org
Facebook
The Webster Public Library is a community library located in the Webster Plaza. It is is part of the Monroe County Library System. The library was heavily renovated in 2016 and expanded into the adjacent building. The entrance is now located on the north side of the building next to the book drop. It is accessible from Van Ingen Drive. The address has stayed the same.
Website Description:

"The Webster Public Library began in 1929 as a single room in the high school building with 657 books, 365 borrowers, and a circulation of 6,246. In 1957, the library moved to the Emil Reitz building on Main Street in the Village of Webster, and in 1959 the library relocated to a new facility in a wing of the Town Hall on Ridge Road.In 1975, a library was built at 1 Van Ingen Drive, located behind the Town Hall complex. In May 2002, the library moved to its current location in Webster Plaza with a south facing entrance. In 2016, the entrance was moved to the north side of the building and now has its own dedicated parking lot. The library gained 4000 square feet and has a beautiful new look. Library facts in 2015: over 241,000 items, 25,000 people attended events, 349,000 people visited the library, 36,163 borrowers, and a circulation of 1.5 million items. "
There are children's teens and adult programs in the spacious meeting room. When not in use for library events, the meeting room is available to non-profits for meetings and gatherings. See
public use of the meeting room for details.
The Monroe County
Mobile DMV Office is located in the WPL meeting room on Mondays from 10:00AM - 3:30PM.
References
Comments:
Note: You must be logged in to add comments
---
2008-07-18 08:03:49 Checkout the Video section for VCR for DVD copies of old movies, TV seasons, etc. The price is right _FREE_. Love the convenience of email reminders to return books and videos with option of renewing them online. Accidently took a book to Florida this winter and was able to avoid penalties with a couple of online renewals. —BradMandell