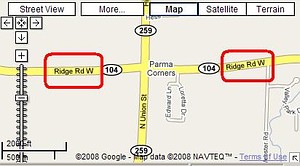 Google Map Snapshot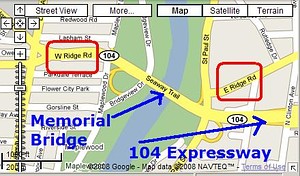 Google Map Snapshot
West Ridge Road is the map referenced street name for a portion of the major east-west artery also known as Route 104 and Ridge Road in northwestern Monroe County. It connects to Ridge Road West on its western terminus and to the 104 Expressway and to East Ridge Road (via St. Paul St) at the Veterans Memorial Bridge. Though both part of Route 104, West Ridge Road and Ridge Road West are no longer connected.
City of Rochester
West Ridge Road is divided from East Ridge Road by the Genesee River and the Veterans Memorial Bridge. West Ridge passes through the Maplewood neighborhood and intersects with Ridgeway Avenue, Lake Avenue, and Dewey Avenue. Despite being in the city, West Ridge is very much a suburban commercial strip in terms of character.
Located here:
Kodak Park backs up to West Ridge. (See also: Disasters and Explosions)
Greece
West Ridge enters the suburb of Greece at Mt. Read Boulevard. Other major intersections are Interstate 390, Long Pond Road, and Elmgrove Road. Its commercial nature intensifies and big box stores, chain restaurants, and strip malls abound. The Mall at Greece Ridge is a major landmark.
Starbucks, Olive Garden, Famous Dave's, and The Distillery are all located right off West Ridge Road near 390. Men's Wearhouse is on Osgood Drive near the mall. Elm Ridge Center plaza is near Ridgemont Country Club
Carter Park is bounded by West Ridge, Long Pong Road, and Round Pond Creek. West Ridge also passes over Larkin Creek
Spencerport/Parma
West Ridge enters Spencerport at Manitou Road and becomes increasingly rural. Hilton Parma Road is the other major intersection, and the road also passes over Northrup Creek, Black Creek, and Buttonwood Creek. Also note that once in Spencerport, locations along West Ridge cease to have a Rochester address.
Brockport
West Ridge enters the Village of Brockport at Sweden Walker Road. West Ridge appears to divide the towns of Sweden and Clarkson, although all locations have a Brockport address. Other major intersections are Sweden Walker Road (Route 260) and Lake Road (Route 19).
Holley
West Ridge enters Orleans County and the Village of Holley (Town of Murray) at County Line Road. Norway Road marks its western terminus, where West Ridge Road turns back into simply Ridge Road.
Comments:
Note: You must be logged in to add comments