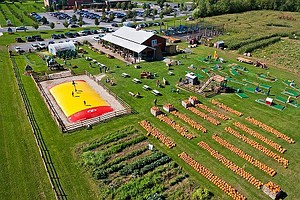 Aerial View Fall 2011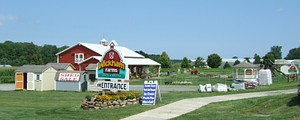 Photo Aug 2008 - BradMandell

Photo Aug 2008 - BradMandell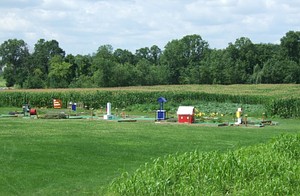 Bucolic Miniature Golf - BradMandell
Location
1821 Fairport Nine Mile Point Road, Penfield, NY 14526
Spring and Summer Hours (as of 2012)
Monday - Sunday: 10:00AM to 9:00PM
Fall Hours (as of 2012)
Monday - Sunday: 10:00AM to 8:00PM
Phone
585 377 3276
Accessible
Yes
Website
http://www.WickhamFarms.com
Wickham Farms is a ice cream and sandwich shop, garden shop, gift shop, and place for family fun. It has a jumping pillow, batting cages and miniature golf. In the fall, there's a corn maze, pumpkin patch and kiddie train ride. Its free attractions are a play set, sandbox (bring your own toys or rent them) and farm animals. Wickham Farms is located next to (and shares a driveway with) the Eastside YMCA in Penfield.
Wickham Farms provides a fun place for the kids to play before or after their lunch or ice cream. They have field trips for schools and organizations. They also offer birthday parties and fundraisers.
It is open April through October with limited hours in April.
The Wickham Farms community supported agriculture program (CSA) is a chance to eat healthy local produce, be more connected to the community and to have fun as a family. It includes
A weekly share of the farm's harvest of veggies, herbs, flowers and a few fruits during the 20-week growing season (approximately June through October). An every-other-week share is also available. The amount will vary given weather conditions, but a full share is usually plenty for a family of four. By partnering with a farm in Canandaigua, they include freshly picked sweet corn as part of the CSA.


A farmer's market-type environment at Wickham Farms on pick-up days (Mondays or Thursdays).


An email newsletter, recipes, recipe sampling and cooking tips.


Frequent U-pick opportunities for vegetables, herbs and flowers. (They do not require CSA members to work on the farm.)


A CSA family event.


A discount on birthday parties at Wickham Farms.
In 2013, Wickham Farms began a program to deliver CSA memberships to area workplaces.
Comments:
Note: You must be logged in to add comments
---
2015-09-28 14:53:32 Apple picking is new for 2015 and we were pleasantly surprised at the quantity and quality of the apples. The trees are close to the ground and dense with apples. Combined with all the other kid-friendly activities this was a great fall family destination. —jasons