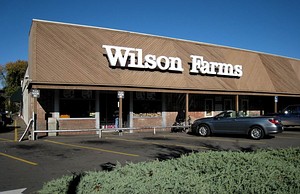 Park Avenue Location 10-2008
Dewey and Electric Ave Feb 27, 2010 - snow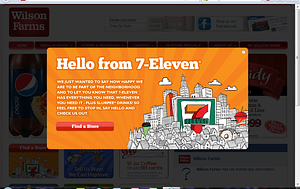 Screenshot of the website from Dec. 28, 2012.
Former Location
Numerous in Monroe County
Wilson Farms was a chain of convenience stores active in the Rochester area that usually had more of an emphasis on grocery items, referring to themselves as "Wilson Farms Neighborhood Food Store". They were formerly part of Ahold USA and then a Buffalo-based firm called WFI Acquisition. In April 2011 WFI sold the chain to 7-Eleven, which began rebranding the stores. Most stores have now been converted, with completion scheduled for the end of 2012.

There were approximately a dozen Wilson Farms stores in the Rochester area. While the Wilson Farms website is still active during the transition, use the 7-Eleven Find a Store tool to see the most current information on what services (ATM, gas, etc.) are provided at the various locations.
As of December 2012, all former locations have been replaced with 7-Eleven.


Comments:
Note: You must be logged in to add comments
---
2008-10-05 11:33:30 Overpriced. Tries to be a corner grocery, fails. —MLentini
---
2010-10-25 19:21:48 This place hires some characters.. From the Andy McCarthy look-alike/act-alike who used to work at the Park Ave location to "The Dude" at the Winton location, a stop by Wilson Farms always leaves me with a laugh. —BatGuano
---
2011-05-23 17:16:29 Of course its overpriced, its a convenience store. i find the park ave location to be incredibly useful. —Sage
---
2012-06-26 18:11:39 7/11 is a dirty, crappy excuse for a convenient store. Wilson Farms was my go to store growing up and this pisses me off. My corner Wilson Farm's is in the process of being converted as I type this. Wilson's may not last forever, but the memories will. "Everybody's going to Wilson Farms... 'Cause we got what you want, and we got it right- got it right... NOW!" R.I.P. :(
---
2012-07-22 16:43:48 The one on the corner of Monroe Avenue and 490 is now a 7-Eleven. —EileenF