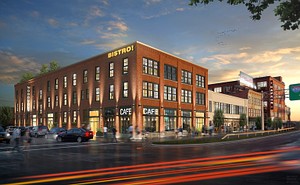 Future rendition of buildings.
Location
1 Woodbury Blvd., Rochester, NY 14607
Occupant(s)
Commercial and residential
Property Owner
Patrick Dutton
Property Owner's Phone
585 704 1546
Website
http://onewoodbury.com
Facebook Page
Construction
c. 1900
Renovated 2016
Woodbury Place is the redevelopment of the Merkel Donohue complex of 3 buildings into 20 loft apartment and retail. Some of the lofts will be rented by visiting actors from Geva Theatre. The complex is located between Excellus BlueCross BlueShield and The Lofts at Capron in the Washington Square Neighborhood.
Retail
Commercial
Food and Drink
Comments:
Note: You must be logged in to add comments
---
2015-01-24 16:26:49 11 units for visiting actors are available starting January 25, 2015 —scotthendler