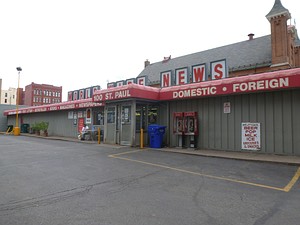 World Wide News and Deli is both a deli and the largest magazine retailer in upstate New York. They have been locally owned and operated since 1940.
Worldwide News specializes in foreign and domestic periodicals. They have thousands of issues in stock from past and present, which can also be purchased online at their
eBay store.
Worldwide News recently began serving subs, soups, salads, hot dogs, sandwiches and beverages as well. They are located in the St. Paul Quarter.
Comments:
Note: You must be logged in to add comments
---
2012-06-24 14:20:27 Not as big as I'd thought but they have a lot of interesting magazines. There's a large selection of African-American publications, as well as some weird subcultural stuff like Goth, tattoos, pin-ups, and BDSM. Something for everybody there. —EileenF