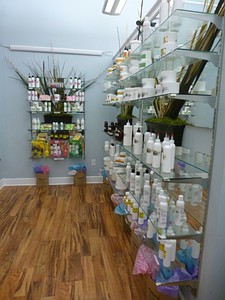 Wosa's products for sale at their salon.
Location
274 North Goodman Street, Rochester, NY 14607
Hours (Salon) (as of July 2012)
Tuesday - Saturday: 10:00AM to 7:00PM
Phone (Salon)
585 271 9672
Phone (Toll Free)
866 710 3332
Wheelchair Accessible
Yes
Email
<info AT wosabraid DOT com>
<wosanaturalproducts AT yahoo DOT com>
Website
http://www.WosaBraid.com
Facebook
Wosa's of New York produces natural hair care products for black hair, such as loc butter, coconut oil, and hair milk. They run a full-service salon, including braiding, in the Village Gate.
Wosa's has been in business for over twenty years.
Comments:
Note: You must be logged in to add comments