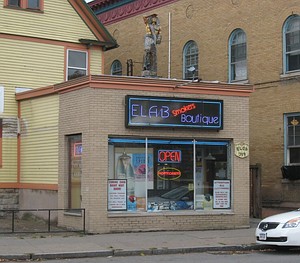 Elab, daytime, 10-2008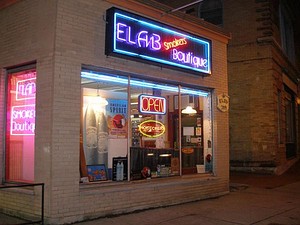 Elab nighttime, date unknown
Location
719 Monroe Avenue, Rochester NY, 14607
4373 Lake Avenue, Rochester NY, 14612
Hours
Monroe Store:
Monday-Friday: 10:00AM to 9:00PM
Saturday: 11:00AM to 9:00PM
Sunday: 12 Noon to 6:00PM
Phone
585 473 5882 (Monroe Ave)
585 865 4513 (Lake Ave)
Website
http://www.myspace.com/elabboutique
eLab Smokers Boutique is a cigar store and head shop. The front of the store is filled with cigars, and up the stairs in the back is a head shop. They have a very helpful staff.
The Lake Avenue store features good prices and a great cigar selection. Helpful staff make this location a great place to shop if you're a cigar smoker.
Comments:
Note: You must be logged in to add comments
---
2008-05-25 15:48:54 The monroe store has the best ive seen yet of glass pipes and waterpipes in rochester and there cigar selection is great. every time i go in everyone is very helpful there —mark
---
2008-09-15 12:15:28 I go there for the Djarum Cloves - get the ones in the red box, the ones in the black box are gross —AndrewSlominski
---
2010-01-12 10:35:18 Not bad for a small town smoke shop but nothing like those I left behind in Los Angeles. Elab's hookah tobacco is outrageously priced and poor quality. I recommend they work a wholesale deal with a company like South Smoke and I'll buy from Elab regularly. —Aiden
---
2010-03-31 21:31:30 Tobacco is way overpriced. Way way overpriced. Our container was 1/3 full. —Surika