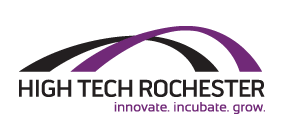 Location
150 Lucius Gordon Drive, Suite 100, West Henrietta, NY 14586
Phone
585 214 2400
Email
<info AT htr DOT org>
Website
http://www.htr.org
Facebook
High Tech Rochester (HTR) is a not-for-profit economic development organization ...

"focused on Greater Rochester, New York economic development in the technology and high growth business sector, and assists the development of new and emerging businesses through its business incubators, the Lennox Tech Enterprise Center (TEC) and the Rochester BioVenture Center (RBC). Through its Manufacturing Extension Partnership (MEP), the organization improves the competitive position of small manufacturing firms. HTR ... the Innovator's Edge, serves as NYSTAR's designated Regional Technology Development Center for the Finger Lakes Region and one of nearly 350 MEP locations across the country." 1
It is owned by the University of Rochester and will be moving part of its operation to the Sibley Building downtown.
Featured Web Pages
Comments:
Note: You must be logged in to add comments