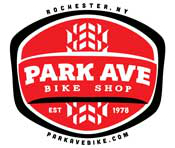 Park Ave Bike Shop is a bike shop that also sells snowshoes and skis. They have two locations in the Rochester area. They also rent equipment including cross country skis and snow shoes.
Park Ave sells a wide varity of bike brands: Specialized, Raleigh, Salsa, Sun, Cervelo, Quintano Roo, Ridley, Co-Motion, Redline, Rans Recumbents, and Look. They also sell accessories from EvenOdd Creative.
The Pittsford Trail System (Railroad Loop) runs behind their Brighton shop.
Their original store was on Park Avenue in the city, hence the name.
Awards
Voted "Best Bike Shop" by City Newspaper's 'Best of Rochester' Awards in 2015.1
Comments:
Note: You must be logged in to add comments
---
2011-02-03 20:44:45 I bought a touring bike from the Henrietta location back in 2009. Very helpful salespeople. Also, they've never had an issue with me bringing the bike for service into their Monroe Ave location instead of the one I bought from. I'd happily buy from here again. —RichMulvey
---
2012-07-31 19:36:21 I have stopped in and purchased Park Ave Bikes a few times in Henrietta. The sales staff was friendly and helpful. I will continue to stop by and see what they have. —bonnev659
---
2013-03-06 09:05:44 I had Park Ave @ Monroe tune up my skis, they did a very nice job. The bottoms looks like new and it only cost $42 with tax, much cheaper than I would of paid at the Ski Company. —Damiankumor