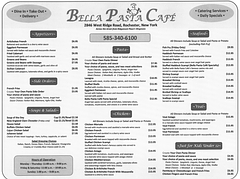 Menu front (May 2009)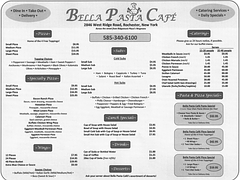 Menu back (May 2009)
Location
2500 Ridgeway Ave, Greece, NY 14626
Hours (as of February 2011 per website)
Monday - Thursday: 11:00AM to 9:00PM
Friday & Saturday: 11:00AM to 10:00PM
Sunday: 11:00AM to 8:00PM
||<class="tablehead">
Phone
|
585 340 6100
Wheelchair Accessible
Yes
Alcohol
||Yes
Upload new image "photo.jpg"
Upload new image "photo.jpg"
Upload new image "photo.jpg"
Upload new image "photo.jpg"
Upload new image "photo.jpg"
||
Bella Pasta Cafe is a casual Italian restaurant, located across from Ridgemont Plaza. The menu includes seafood, pasta, and chicken dinners, as well as pizza, wings, and hot/cold subs. They have a cozy dining room and also offer take out, delivery, and catering.
The restaurant opened in March 2009 and accepts credit cards. On 10/5/14 Bella Pasta Cafe moved into the space vacated by Romeo's. In addition a much needed larger dining room, Bella Pasta now has a bar, a large and a small party room.
Comments:
Note: You must be logged in to add comments
---
2009-08-03 22:18:37 Bella Pasta Cafe is a GREAT place to get Italian food. As someone who grew up eating in quality Italian restaurants that either I or my father worked in, I can say with confidence that this one is a gem. The restaurant itself is very clean and quaint, with fun-if slightly cheesy- music playing over head. The service is fast and friendly, and its a great value-the prices are very reasonable considering the generous portion sizes. The food is incredible-I can easily say that they have the best Chicken Marsala in Rochester, as well as many other delicious dishes. The Marsala chicken is wonderfully thin and lightly dredged, with sauce that is the perfect balance between sweet and rich with just the right texture and thickness-not to mention the mushrooms that are fresh and definitely not rubbery. The Casino Stuffed Chicken Scampi and Haddock French are also great choices. And don't forget about dessert! The chocolate torte is large and rich enough for 2, if not 3 people. I can't wait to go back!
PS-They do take credit cards now —MelissaMame

---
2009-11-30 12:39:13 Considering the fast-food appearance of the place, surprisingly good food. The Chicken Asiago was outstanding. Desserts were also very good, much better even on a slow Sunday night than I've had at some other restaurants known for their desserts. —DavidPausch
---
2010-03-03 11:56:35 We were not impressed with this restaurant. The bread, soup, salad and meals were unspectacular. The red sauce was average at best, and not well mixed with the pasta it was served atop. The lasagna was flavorless, with a too-dry layer of cheese, a too-thick layer of unseasoned ground beef, and too many layers of nothing but pasta. If they won't season the ground beef, they should at least mix it with sauce or cheese in the same layer. As it was, all I could taste was the beef. The iced tea tasted like dirty city water.
Service was very poor. The bread, soup and salad came quickly, but the meal took too long. Following the meal, the waitress took our plates to package leftovers, and spent 15 minutes doing other things before returning with our food. She confirmed that we had finished our meals and weren't going to order desserts, but we then spent another 15 minutes waiting for the check she was supposed to bring. After reminding another individual (perhaps the owner) that we were waiting for our check, it was brought by our waitress.
While not expensive, the food wasn't worth the cost or the time. The atmosphere is also unimpressive, with strange, neon-lit fans mounted to the very high, industrial ceiling, and an entryway that greets customers with a carryout counter.
Prior to our long wait for food wrap-up and payment, I took the position that I wouldn't specifically return, but wouldn't especially avoid the restaurant. After the wait, however, I'm quite certain I will never return. —nickelcokes