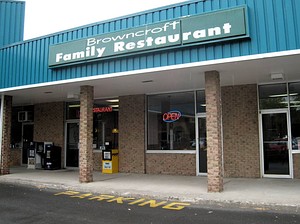 Browncroft Family Restaurant 5-2008
Location
2501 Browncroft Blvd, Rochester, NY 14625
Hours (as of April 2010 per phone call)
Monday-Thursday: 6:00AM to 3:00PM
Friday: 6:00AM to 8:00PM
Saturday/Sunday: 7:00AM to 2:00PM
Phone
585 248 2960
Accessible
Yes
Alcohol
No
Website
http://BrowncroftRestaurant.SamsBiz.com/
Browncroft Family Restaurant is a diner restaurant in Penfield...known for its breakfasts! Located in Browncroft Corners Plaza.
Note: Breakfast served all day, except for poached eggs and waffles, which are not served after 11 a.m.
Staff will write individual checks for large parties.
Comments:
Note: You must be logged in to add comments
---
2007-11-12 15:46:21 As the review states—great breakfasts. The service is fast, waitresses check on your coffee supply often, and the food is tasty. —RocDiner
---
2008-05-18 16:42:38 Just your basic local diner, breakfast, sandwiches, burgers, etc. Staff very friendly, food is fine for what it is, and prices are very reasonable (2 sandwiches, side of slaw, 2 drinks, $13 tab before tip) —DottieHoffmann
---
2008-11-04 13:55:47 Tried an Omelette for breakfast. It was pretty good. About $6 for a 3 egg omellete and 60 cents for extra eggs, homefries were $1 extra but Toast was included and They have 4 different types of jams that were quite yummy! STrawberry, raspberry, blackberry, and grape. —Drogean
---
2010-06-16 10:13:57 Have driven by this place for years and ended up going in one day. I was blown away by the food. I love good diner food and think this is the best in Rochester. Prices were VERY reasonable, service was great, and the portions were huge. —BrittV
---
2011-05-15 14:08:52 Went here with my family this morning. The place was very busy, but we were seated immediately, and the servers and food were both timely. They messed up our drink orders, but fixed things up quickly, and were professional about it.
As for the food itself - our orange juice and apple juices tasted like they were from concentrate. Pretty watery. Three of us had omelets, which were average. We all tend to prefer ones with the ingredients all mixed in with the eggs, instead of the style where the eggs are cooked and then the filling is inserted in the middle, as these were.
Prices are slightly above what we pay for another diner in the area where we get weekly breakfasts.
All in all, it was fine, but we'd only likely go back if we were passing by, not to make a special trip to go there in particular. —RichMulvey