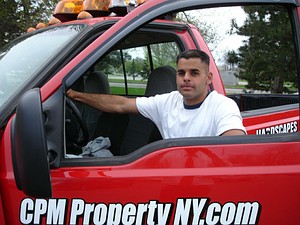 CPM President Jason Hinkelman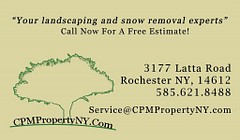 CPM Properties NY Business Card
CPM Property NY provides landscaping, lawn care, tree maintenance services, as well as general plant care, commercial landscape construction and design.
They also provide snow plowing services in winter for commercial and residential properties in Rochester, Monroe County, and nearby surrounding areas.
Comments:
Note: You must be logged in to add comments
---
2013-10-06 16:11:36 My recommendation is DO NOT use CPM property for snow removal service if you are a home owner. On the other hand, if you love to shovel, by all means, hire them because you will be doing a lot of shoveling because they will not keep your driveway free of snow. My neighbor and I both hired them for the 2012-13 winter season for home driveway snow plowing. They do NOT come with 3" of snow as the contract states. Even worse, we had two storms (>12" of snow) last year, one after Christmas and one in February and they did NOT come either time. I called 4 times during the February storm. They provided horrible service. Unlimited trips, per the contract, was not honored either. If they come (and that's a big IF) and it snows more than 3" additional inches, they will NOT come again. I have a simple 40ft straight driveway that only takes 2 minutes to plow. When they did come (rarely) it wasn't until mid-day, so don't expect a plow before you go to work.
Check them out the BBB site...they have plenty of complaints for not providing the plowing service that they were contracted to do. —LouJ

---
2014-02-05 18:54:26 Do not ever hire this company if you are a homeowner and especially if you are unable to do your own shoveling. My husband is a dialysis patient and I have had recent knee replacement surgery. Neither of us is supposed to shovel. So I hired this company who said for an upcharge they would also shovel our front walk. I should have known when they never even staked out the driveway that they were never going to provide service. Their contract says 2 plows during a snow event and that has NEVER happened. It has been snowing today for over 12 solid hours, my driveway is impassible and they have yet to show up. I had to make a running start and plow into about a foot of snow to pull my car off the road and into my driveway. all our calls go to voice mail and much later someone calls back to tell us the trucks are out. Really? No plowing all day - I guess they figure they can make one swipe late tonight and that should take care of everyone regardless of their 2 plows a snow event statement in their contract. Never again with this company. they are AWFUL. I will make sure to share this throughout all of social media. —PattiOBrien