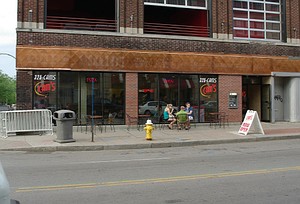 Old East Ave Location, 5-2010
Locations
Phone
1290 Mt. Hope Avenue, Rochester NY, 14620
585 256 7437
2110 Route 250, Penfield, NY 14526
585 377 2267
2000 Ridge Rd, Ontario, NY 14519
315 524 2300
2341 Brighton Henrietta Town line Road, Rochester, NY 14623
585 413 0332
1827 East Avenue, Rochester, NY 14610
585 434 0013
Hours (as of December 2011 per website)
Mt. Hope:
Monday - Saturday: 10:00AM to 12:00AM
Sunday: 11:00AM to 10:00PM
Penfield:
Monday - Saturday: 10:00AM to 11:00PM
Sunday: 12:00PM to 10:00PM
Ontario:
Monday - Thursday: 10:00AM to 10:00PM
Friday: 10:00AM to 12:00AM
Saturday: 11:00AM to 12:00AM
Sunday: 12:00PM to 10:00PM
Henrietta:
Monday - Wednesday: 10:00AM to 9:30PM
Thursday: 10:00AM to 10:30PM
Friday & Saturday: 10:00AM to 11:00PM
Sunday: 11:00AM to 9:30PM
East Avenue
Monday - Saturday: 11:00AM to 9:00PM
Sunday: 12:00PM to 9:00PM
Website
http://www.CamsPizzeria.com
Reviews
Rochester NY Pizza Blog review
Cam's Pizzeria is a local pizzeria chain with multiple locations in the Rochester area.
Also offers catering.
Comments:
Note: You must be logged in to add comments
---
2008-08-20 20:21:51 I like their breakfast pizza —MrPhil
---
2008-11-09 09:27:34 twice I have been to Cam's in Irondequoit and twice I have waited for over 30 minutes for mediocre food. Not worth the time or aggravation. Politeness does not compensate for turtle slow service. There is nothing New York City about this place. —JuneSylvesterWales
---
2008-11-11 09:43:03 Horrid pizza. I dont miss the Webster location. Perhaps its just not my style? Great Northern or Pizza Stop are great alternatives. —MrRochester
---
2009-02-28 19:30:30 Great NY Style pizza. I'm a long time Rochester resident and have eaten at many pizza places. Cams is my favorite —Gus
---
2009-03-01 16:19:39 Back when I worked at Xerox, I would go to the Webster location for lunch. I loved it back then. After having Pizza Stop pizza, however, I don't know if I'd have the same love for Cam's that I used to. At the very least they used good (if not excellent) ingredients. —BatGuano
---
2010-12-20 10:54:53 I have been to the Ontario, Williamson and Geneva Locations...Good thin pizza with a nice cheese/sauce ratio..thumbs up! —Ikiwcor
---
2011-02-22 12:22:12 Just tried Cam's for the first time. It was the new location on the corner of Mt. Hope and Elmwood. It has instantly become my #1 pizza choice in Rochester. The thin crust is amazing and delicious. I cannot wait to try some of their specialty pizzas and the rest of their non-pizza items. It is really nice inside with plenty of seating as well. —mbetush
---
2011-04-21 23:06:14 The new Cam's doesn't live up to my memories of the old Cam's. The slices are much thicker and they are making more specialty pizzas than they used to. To me, that's not necessarily a good thing. That being said, there are plenty of worse slices in the City. —BatGuano
---
2011-05-27 15:43:27 Spencerport location was outstanding in Feb. Ontario and Williamson were very good within the past couple of years. Can't speak about the other locations but they did know how to make pizza properly at those 3 locations.
---
2011-12-04 22:54:45 I waited nearly 2 hours for my pizza tonight. They blamed it on having 12 orders and one driver... I didnt want excuses, simply my pizza. I finally get my pizza, and it looks like somebody carelessly burnt it, threw it in the box(literally), and then shook the pizza while it was in the box. Not to mention it was cold. I was very disappointed in the customer service and I would never recommend them to anyone. —DanMcCovel
---
2012-11-29 12:48:52 Awesome NY style pizza, by the slice or whole. I've eaten at the Mt. Hope and Penfield locations - not sure if others are of different quality. One minor knock on them is no fountain drinks. Your only choices are a 2-liter or 20-oz bottle. —bionicsimmons
---
2015-10-08 23:54:12 Expensive, poor service, terrible food. The pizza itself is actually OK, but overpriced for what you get, and there are so many better options nearby. I'd stay away from anything else on the menu too. I had a chicken parm dinner from there one night. It was something like $14 for a fairly small bowl of not very good pasta. I never received my side of breadsticks that it supposedly came with, but the breadsticks I've had from there in the past were clearly frozen and absolute garbage. Not a fan... —sub619