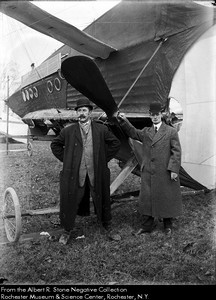 Cooley and his manager keeping a straight face in front of his 'invention'. Image credit: RMSC The story of the airship designed by John F. Cooley is a gem amongst the many oddities of our city's history. Following the success of the
Wright Brothers in 1903, the world was enthralled by the prospects of flight. People could see tomorrow and wanted it today. This created a market that certain individuals such as Cooley were quick to embrace. He sold a unique vision to the wealthy gentlemen of our city and began construction of his ship in 1910 near the Baker's Farm area of Genesee Valley Park, where he said the trial flight would eventually take place.
The design was magnificent, beyond the scope of anything that had previously been achieved, surely something to make his investors rich. Cooley's lofty concept took the form of an 81 foot long and 42 foot wide vehicle requiring both a pilot and engineer to fly. It was billed by a local paper as "the first 'All Rochester' plane."
Construction, however, was never completed. Instead Mr. Cooley disappeared in April, 1911 with outstanding debt. His then unpaid crew in Rochester abandoned their work on the unfinished airship. It was transferred from Cooley's ownership to a local grocer, through a legal writ of attachment, over the $92 he owed at her store. Cooley eventually resurfaced and was reported to be in New York City selling stock... in an airship enterprise.
The magnificent airship of Rochester and its hangar are said to have been destroyed by a windstorm.