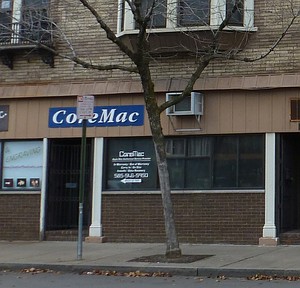 Location
129 Liberty Pole Way, Rochester NY, 14604
Hours (as of July 2011 per Website)
Monday - Thursday 8:30AM to 5:00PM
Friday: 8:30AM to 4:30PM
Phone/Fax
585 546 5950/585 454 2807
Wheelchair Accessible
No
Email
<coremac AT rochester DOT rr DOT com>
Website
http://www.Core-Mac.com
CoreMac Macintosh Repair is a computer repair shop for Apple products, servicing both in-warranty and out-of-warranty computers. They are an authorized Apple service provider.
Owner Christine Cormack has a Computer Service Degree from RIT. She is a self-described "life long Mac fanatic" with over 25 years of experience.
Located in the St. Joseph's Park Neighborhood.
Comments:
Note: You must be logged in to add comments
---
2007-09-06 12:03:18 Did well by my iMac G5. Immediately recognized serial number was covered by Apple technical bulletin, and I had my machine back the next day with a new logic board. —EricLarsson
---
2007-10-08 21:27:24 People who have used Macs for many years already know Christine. She has worked as an Apple Certified Technician for over 20 years in the Rochester area. If you have ever had service at Leon's, The Computer Store, or Learning Technologies Group then odds are she has worked on your machine. Chris is amazing and I'm so glad to see her finally starting up her own gig. She has a sterling reputation. I trust her implicitly and will not let anyone else touch my Macs (I have personally owned over 20 Macs and have repair oversight on over 250 others). —KevinKondo
---
2007-11-01 13:15:26 Christine is fantastic! Ethical, prompt, easygoing, friendly. I wouldn't go anywhere else and I wish her great success with CoreMac! —JansuClover
---
2009-02-21 22:11:18 Great repair shop, I tried to take my Powerbook to Apple and they installed a dead part then tried to sell me a new computer. Instead, I took it to CoreMac, and she quickly identified the problem, and even replaced some missing keys on my keyboard at no cost! Would definitely recommend her if you are not happy with the Apple repair shop. —osmith
---
2012-01-18 14:21:35 From my own experience and from another story that I've hear, if you take your computer to this place the original problem will be fixed but there is a good chance that a new problem will be created in the course of the repair work. I was NOT particularly happy with my experience here. —JackStemper
---
2012-06-14 17:06:35 Brought my old G4 and my refurbished (new to me) iMac to Christine, and she did an awesome job migrating my files, and did it quickly, and under $100 (far cheaper than I expected). She's been available to answer additional questions, and always gets back to me within a few hours when I email her. My experience was excellent, and I plan on recommending her to all my friends with Macs ~ she was worth every penny I spent! —keerasel
---
2014-10-27 12:32:15 I've taken our MacBook Pro to Christine for about 5 years now. Each time, I 've never been disappointed. She is very reasonable and fair in her pricing. One time, she quoted me a price for a power issue that I had repaired by her, but embarrassingly, I only had $20 on me at the time. She stated that was O.K. and fixed my issue for $20. I always refer friends and family to her and they all have had positive experiences also. It is not coincidence that Universities and Large Corporations also bring their Mac's to Core-Mac. —Stevedude
---
2015-12-05 06:04:05 Christine was beyond helpful, and her assistant was truly funny and kind. She kept me updated the entire time, worked so hard to get my parts covered by apple, and is really well priced for the great work she does. She worked way faster than I had expected too and when she found my battery was failing tests, I planned to save up to take it back in to her to buy a new battery. Come time to pick up my computer, I find out she not only replaced it, but had it covered so I didn't have to buy it. I'm blown away, and will always bring future trouble to her. Seriously a wonderful person to have in the Rochester area!! —AnnMarie