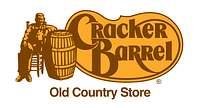 Company Logo
Location
2075 Hylan Dr., Henrietta NY 14623
Hours (as of June 2010 per Website)
Sunday - Thursday: 6:00AM to 10:00PM
Friday - Saturday: 6:00AM to 11:00PM
Phone
585 321 3230
Accessible
Yes
Website
http://www.CrackerBarrel.com
Wikipedia
Cracker_Barrel
Cracker Barrel is a chain restaurant located in Henrietta next to I-390 Exit 13 on the outer southeast corner of the Marketplace Mall shopping district.
The chain combines "home cooking" style eatery with a country store (food items, gifts, clothing, wooden rockers, etc). Home cooking includes biscuits, ham, gravy, and more - see website for complete menus. The chain allows travelers to rent books on tape at one outlet and return it at any other store 1.
Comments:
Note: You must be logged in to add comments
See Archive Page for comments prior to 2008.
---
2008-02-29 03:05:00 Not very vegetarian friendly and definitely not vegan friendly. Nice environment and service though —EllaBeeney
---
2008-05-16 13:13:58 Good for breakfast items. Nothing to rave about. —MrRochester
---
2008-12-22 20:09:43 Went there to try it out and fell for the atmosphere. It was very homely and the food was just what I needed. I bit into a fresh blueberry muffin and cried. Seriously! Try the blueberry muffin. —AlexMikado
---
2010-11-17 17:55:06 One word summary: Stodgy.
People who used to eat paste as children will, if I can hazard a guess, be very pleased! You see, there's a fine line between being creamy and being stodgy. Creamy = Good, Stodgy = Bad (in my book). But, judging by the crowd, this place is massively popular so it must do something right. I just didn't find it on my visit. —BatGuano

---
2012-07-31 21:34:54 I enjoy the breakfast at CB. The dinners and lunches doesn't do anything for me. The service has been solid for most of my visits to any CB including the one in Rochester area. —bonnev659