Diamonds Limousine Service provides limousine service featuring a wide range of vehicles.
Comments:
Note: You must be logged in to add comments
---
2010-06-28 21:29:49 Here's our review: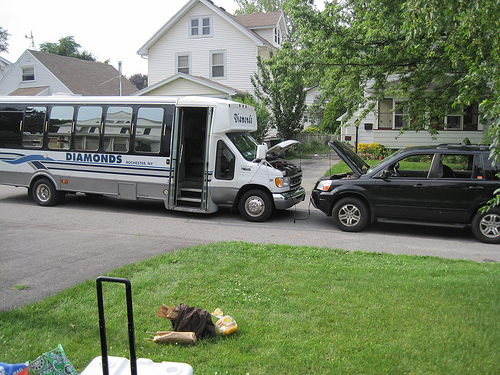 Yes, this is really a photo from our experience yesterday. The bus broke down in the middle of the street and we had to jump it, which took forever because the driver wasn't very familiar with the vehicle. When my wife called the owner to complain, he told her - verbatim - "You're not a good person. You need to learn to pray to God."
Rating: 0 out of 1,000,000,000 stars. —MattDana

---
2011-04-11 13:43:29 DO NOT USE !! $450.00 WASTED !! I rented the Opal 10 pass for 7 people for an advertised wine tour. The driver didn't know where to go, we always had to wait to get in, the radio din't work, the back windows worked intermittantly, the windows inside were dirty with finger drawings, the mirrors were dirty and smudged, the champagne bucket had dirty water and garbage in it, the ice we used for our water and wine had 2 empty Corona beer bottles with lime under the ice, the brakes grinded so bad down hill that the car shook, the bottom of the limo constantly scraped the ground, later on we could smell gasoline in the back and 2 of 7 later got sick from it. After 9 calls and 5 hours of a 6 hour rental, they offered us $66.00 back if we ended our tour an hour early, they charged us $75.00 per hour for the trip. TOTAL RIP OFF !!!
---
2011-10-24 07:06:15 I totally agree with the other comments.....be very very careful of this company....they have very deceptive advertising to lure you in and then jack up the price. Our daughter is turning 13 and we called to ask about the ad we saw in the genesee valley Parent magazine....."Only $99! receive a 2-hr limo cruise...pepsi and pizza" When we started talking about the specifics, the lady stated "actually, that $99 price is only for a maximum of 6 people"....hmmm, we looked at the ad again and there was nothing stating a number of people max....Well, we talked to our daughter and she said she could get the number down to 5 of her closest friends....Then, the the lady said "actually, that price is only for a van....if you want a limo, it will cost more". Are you freakin kidding me?!?! If i want a van, we will drive them around in our Sienna!!....Stay away from this company and their unscrupulous methods! —ChrisTrapatsos
---
2013-01-18 18:05:57 Diamonds Doesn't Disappoint! I called Diamonds Limousine Service when I found myself in need of a beautiful limousine for my daughter's wedding. I talked to a couple other places before Diamonds and to be honest I was treated very poorly, there was little selection and the other places acted like they didn't even want my business. Diamonds was radically different! From the start they treated me like family which I loved since the limo is for my daughter's biggest day. I ended up renting the Excalibur limousine and it was gorgeous! The decorations were perfect, the limo looked wonderful, the driver was exceptionally classy and respectful and the complimentary services offered were impeccable. Thank you so much for your hard work Diamonds. My daughter loved her special day and I know we'll be coming back to you guys for the anniversary!!! —AmandaPeterson

---
2013-07-22 12:28:22 Service from start to finish was extremely awful and I'll NEVER ever use Diamonds Limo for anything in the future let alone recommend it to a friend. Crappy service aside, their limo was out of date, torn up on the inside and nothing worked. The price is low and that's because they're the worst in the business. Save yourself the stress and go somewhere else. —carlyh490
---
2013-10-23 15:51:44 Just wanted to say THANK YOU TAHNK YOU THANK YOU!!!! I had a surprise birthday party for my daughter who was turning 11 years old. Our driver showed up on time, and I must say that he was absolutely 'Wonderful.' At first I will admit that I was thinking to myself, 'How in the heck is this guy going to handle 10 very pre-pubescent 11year old!' Our driver had the patience of a saint (Even when the balloons kept flying up past the driver).
At first we went for pizza, and then we went to the mall for ice cream. However before the ice cream, they felt the need to drive around the mall parking lot 5 times just to wave and scream 'hi' to every person they saw, and our driver being the great guy he is, was happy to accommodate them. When we left the mall, our chauffeur was right there waiting patiently ready to face more torture from my girls. When they said go, he went. When they said stop, he stopped. And I would imagine that if they said 'jump' he probably would have said, 'How high?'
After two hours of this divider going up and down, windows being open and shut, balloons flying in the front, and let's not forget the repeated playing of an N*Sync CD, he stood through it all, never faltering at one moment (or at least I didn't see him). So I just want to say to all of the parents out there who have no idea what to do for their kid's next B-day party, give Diamonds a call and ask for the same chauffeur. And I would like to say to Diamonds, thank you so much for your wonderful service, and last but certainly not least, a great big thanks to our driver for treating my girls like the 'Divas' they thought they were. You're the best, and you'll be hearing from me again soon! —John-one

---
2014-06-18 09:03:03 Diamonds called us at 4:30 the day before our wedding to inform us they had been having transmission trouble for two weeks with the limo we rented, and that we couldn't have it for our wedding day. When asked why they waited until last minute to tell us they said they didn't want us to be stressed all week. What kind of sense does that make?! So wait until last minute so we have to scramble?!! We ended up having no choice but to use another one of their limos that we did not want. During this whole mess, we kept getting reminded to "tip our driver". The customer service here is arrogant and rude! On our wedding day, the first thing the driver said to me wasn't "Congratulations", it was, "Who do I talk to about my tip?"...I was LIVID!!! Never ever will I recommend them to anyone or use them again! Very, very poor quality company! —LindsayBihrle