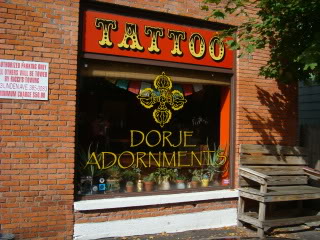 Dorje Adornments is a piercing studio in the Alexander Neighborhood. They are located beneath Love Hate Tattoo. It is staffed by professional piercers Nick Giordano, Bonnie Harter, and Marley Sears.
Nick and Bonnie each have 9 years of experience and have taken specialized classes in oral & maxofacial anatomy. Additionally, all piercers hold OSHA Bloodborne Pathogens Certification, and are Red Cross first aid and CPR certified.
The shop has a Tibetan Buddhist theme and private piercing rooms.
All jewelry is
autoclaved prior to insertion in a fresh piercing. Needles are one-time use only and disposed of in a medical sharps container. All tools are cleaned by using a three step process ending in autoclave sterilization. They spore test their autoclave weekly through an independent laboratory to ensure it is functioning properly. They have the spore test results on file since the day they opened and will be glad to share them with you.
Dorje Adornments offers a wide selection of body jewelry with a heavy focus on jewelry for enlarged earlobes. Dorje carries fair trade and sustainable organic jewelry, much of which is made by local artists. All their initial piercing jewelry is implant grade and manufactured in America.
Photos
Comments:
Note: You must be logged in to add comments
---
2007-01-29 01:09:15 I highly highly highly recommend this shop above all others. Nick has pierced me many times as well as a large number of my friends. Also, don't go to Ultimate in Henrietta anymore... these two were the talent behind that operation. —MisterElkington
---
2009-06-18 18:22:53 Went there today to pick up some new jewelry, and they were extremely helpful, and informative. Got me what I wanted quickly, and helped me put it in. I was in and out in under 15 minutes, didn't spend more than I wanted, and now I look fabulous. I also got to take a peak at the pericing space, which was much more private than I expected, and of course clean. —ThatkidwiththeHawk
---
2009-06-19 13:41:03 I have been going to Bonnie and Nick since 2003. I recommend them to EVERYONE I come in contact with who asks about my piercings or we have just a general conversation about piercings/tattoos. They are the ONLY ones who will ever pierce me in the future should I decide to get any more done. I have gone to other places and NEVER NEVER again. The shop is ALWAYS clean, they will go the extra mile for you in making sure you'll be happy with your choice of piercing or jewelry. They have been the only ones to pierce my husband and when my daughter is old enough for her first ear piercings she will go to them as well. So if you're searching for a piercer your search should end here! :) —AmyLessord
---
2009-11-06 21:46:12 I just went to Dorje four days ago to get a nostril piercing. This shop is so great! Nick is a very experienced piercer, and the shop is so thoughtfully run! I really like the way they put effort in decreasing the amount of waste as well as using vegan materials when possible. You feel at peace when you enter the shop, it's a great experience. If you are going to get something pierced, I'd go here! —sparkly
---
2010-09-05 19:24:46 I had a great experience when I went here. Nick went through the process that he was going to do when he was going to do my piercing. He made sure all my questions were answered. It was a good experience & if you're looking to get something pierced, this is the best place to go!! —IreneTriantafilou
---
2010-10-10 13:21:50 i really recommend this shop. nick did a double inner conch piercing on me & an outer helix piercing on my roommate, & he was absolutely amazing during both procedures. the shop has great decorations & a nice vibe, & nick was very friendly & knowledgeable about everything. thanks dorje! —juliapeterson
---
2011-03-01 22:33:23 I had a great piercing experience with Nick here. He pierced both of my nipples, and they came out very even and symmetrical. Flawless execution, and he made me feel very comfortable. The store has been very clean whenever I've been in there, and their jewelry selection is really diverse. It even showcases pieces from local artists. I would definitely come here again, and would recommend Dorje to anyone as the preferred place for piercings. —puddleofsick
---
2011-06-20 09:33:06 Great Shop! Great People! they have a great selection of original jewelry and are very knowledgeable. I always spend more here but its worth it! they are good at what they do and are honest.
---
2012-01-05 18:41:40 I wouldn't recommend anywhere but Dorje. The environment and people are phenomenal. Nick is the prince of piercers! This is the only place I will trust for jewelry and piercings and I look forward to many years with them for myself and my daughter. —CourtneyLipp
---
2012-03-10 01:00:38 This shop had the best piercing experience I have ever had. The staff were knowledgeable and very honest when it became clear that an industrial piercing just wasn't good for my anatomy. I ended up settling on a rook and the experience was excellent. The demeanor and attitude of the staff put me completely at ease. I was also extremely impressed by their attention to cleanliness and sanitation. I highly recommend this shop to anyone and will probably get any future piercings there. Quick note though: You can't really see the front of the shop from the road! But it's just across from the bank. —csas
---
2012-12-29 10:35:37 My daughter and I both went to Dorje yesterday for piercings, based on a personal recommendation. She had her navel pierced and I got my cartilage done. I was very impressed by their cleanliness and knowledge. I would definitely go back to them for any additional piercings. —KimCummins