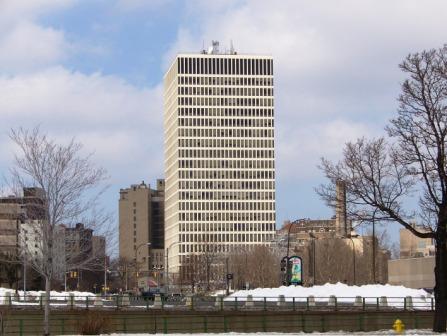 The Five Star Bank Building was constructed in 1970. Located at the intersection of Chestnut Street, Court Street, and Broad Street, it is 284 feet tall at 21 stories.
The Five Star Bank Building was originally called Marine Midland Plaza then the HSBC Building. It was built and owned by the Tishman Group of New York City. The Chicago firm of Skimore Owings and Merrill was the architect of record, with Bruce Graham and Fazlur Rahman Khan as the main designer/engineer team. Graham and Khan were also the team that designed both the Sears Tower and the John Hancock Building (Big John) in Chicago, Illinois.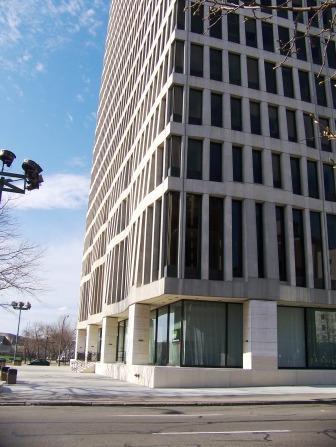 The exterior, a poured in place reinforced concrete system of columns and beams, is a load bearing "cage" that, combined with the concrete floor slabs and the concrete elevator core, allows the interior to be free of columns, creating flexible floor plans that can be easily changed to serve the tenants needs. The flow of gravity down the sides of the building is expressed in the undulating columns at the lower stories. Called the "arching effect," this point of visual interest shows Khan and Graham's expertise at using the engineering solutions as a major part of the building's architectural design.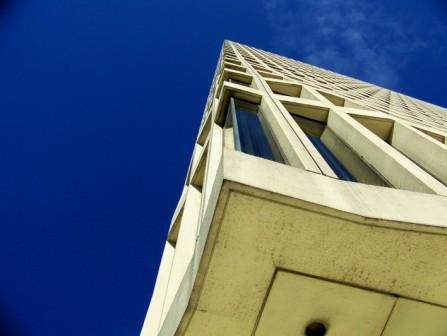 The design team also included no corner columns running the height of the building. This effect is best appreciated at ground level, looking straight up at a corner.
The concourse includes a cafeteria, an auditorium and a sunken garden. Italian travertine (a sedimentary rock often mistakenly called a "limestone" or "marble") covers the exterior concrete structure.