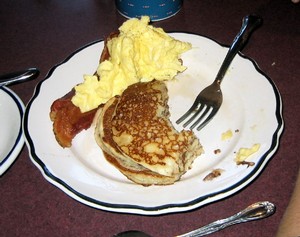 It's impossible to get a photo before it gets eaten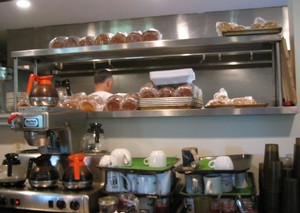 Bread baked fresh, on site, each day I think!
Location
7548 Main Street Fishers NY, 14453
Hours (as of June 2016 per website)
Closed: Monday-Wednesday
Thursday: 7:00AM to 11:00AM
Friday: 7:00AM to 11:00AM
Saturday: 7:00AM to 11:00AM
Sunday: 7:00AM to Noon
Phone
585 742 3280
Website
http://www.fishersstation.wordpress.com
Food at Fisher's Station is a small, family-owned restaurant serving a small menu of home-cooked food- Breakfast. Roughly a mile south of Eastview Mall. Fishers' menu is traditional comfort food: hot turkey sandwiches, yankee pot roast and bread pudding. Everything is prepared from scratch, including the rolls, soups, pasta and desserts.
The menu at Fisher's changes daily, depending on what the chef's making that day. For example, if he made turkey, then cold and hot turkey sandwiches are on the menu.
Food at Fisher's is reasonable: an entree is usually around $6-7 (for a large plate of food), drinks are $1, and desserts are $2.50-3.50.
Fisher's is small (with a capacity of around 40 diners). Take-out is available.
Comments:
Note: You must be logged in to add comments
---
2007-08-21 20:19:47 A bit of a ride out of the City but well worth the trip. Small place so be prepared to wait a bit (but it's never long they turn them over pretty quick). Breakfast is always great, their pancakes are absolutely awesome as is their bread all baked in house. If a large table is open share it with some strangers and make new friends! —DottieHoffmann
---
2008-04-04 11:27:16 My friends and I very much like the closer-to-the-city Flour City weekend breakfasts, but have now become devotees of FS...best spinach/cheese omelettes, pancakes, scrambled eggs, etc in Greater Roch. Worth the extra few miles drive. Aaaaah—try it! —LizDee
---
2008-12-02 11:52:41 Nothing but the highest praise for this restaurant: The food is excellent. Well worth the drive. —DanielM
---
2009-08-05 15:30:01 its def a little bit of a drive for us to eat here but it's so worth it. everyone is friendly and the food is all homemade (muffins, toasts, jelly) it all great comfort food. please try this place. you will not go home hungry :) —limeylimer
---
2009-11-11 16:20:19 I felt compelled to write a review after myself and 3 family members ravaged through some awesome breakfast here. Yum. Everything is top notch- don't forget the toast and jam. Whoever put that picture above is evil. Also try their Yankee Pot roast, which I believe is served on Thursdays. Cash only. —JohnBarry
---
2009-11-11 16:40:19 yes, JohnBerry, Thursday is pot roast day, and it is delicious. I also highly recommend going there Friday for lunch- they have a grilled fish sandwich on their homemade yeast rolls that is to die for. —KatyHanson
---
2010-03-03 21:39:57 Great little out of the way breakfast place. The pancakes are unbelievable, better than anything I have had in some of the nicest diners in NYC. The service is brisk and no-nonsense. It's cash only so come prepared and come early. It gets quite busy by late morning. Oh, YUM. —dadioy01
---
2010-03-23 19:02:24 yum yum yum yum yum yum yum yum yum yum yum yum yum yum yummy!! best brekfast and lunch i have ever had!! the pancacs are delitios!! i would eat their any time of day!! once u start eating it is imposible 2 stop!! yummy yummy yummy yummy!! eat at fisher station!!1 —MARIESAMAOIU
---
2010-03-23 19:03:29 rick way 2 coock it up back their!!2 —MARIESAMAOIU
---
2010-08-12 13:30:40 Lunch is pretty good, but I think it is no longer served on Wednesdays. I usually find myself pouring pepper and a little salt onto my food because it can be a little bland. However, I really only come here for the rolls, which are included with every lunch entree. They are soft and tasty and more than make up for any blandness of the food. The rolls (and other bread) aren't intended to be sold separately, but if they have extra that day, you can buy some to take home. Weekend breakfast is busy, so be prepared to wait. Although most people like the pancakes, I don't care for them at all - way too buttery and melty for my liking. The eggs and, of course, egg sandwiches (served on the same delicious buns) are excellent. —ChristineH
---
2010-08-12 14:58:51 Attempted to go here for lunch today. They are on vacation. The restaurant is closed until after Labor Day. —ChristineH
---
2010-10-10 12:15:25 Out of the 3-4 times we have tried to eat here, we have only succeeded once. Too busy, too crammed. This place is a victim of its own popularity. No place to wait, so standing up at the door or outside is tough with kid/kids. Eating at Rene's Cafe from now on! —RocDoc
---
2010-12-17 20:21:02 The place you are eating at used to be the home I grew up in. In my childhood, it was surrounded with wheat or corn fields, and the old (now a road) trolley bed used to go back to the I-90 interstate. The trolley bed used to be lined with the Elm Trees that died in the early 70's because of the Dutch Elm disease. I used to fish and camp on the old creek bed that paralleled the interstate behind the house. Enjoy my old homestead, I did for 18 years, from 1956 to 1974. —FredFuhrer
---
2016-06-23 15:07:47 Showed up today at 12:30 only to discover they no longer server nor open for lunch, ever. —travisowens