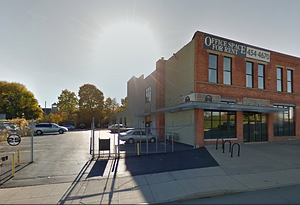 Barbetorium, 10-2010
Location
25 Circle St , Rochester NY, 14607
Hours (as of September 2011)
Monday: Closed
Tuesday/Thursday/Friday: 12:00PM to 8:00PM
Wednesday 10:00 AM to 6:00 PM
Saturday: 9:00AM to 6:00PM
Sunday: Closed
Phone
585 271 8120
Wheelchair Accessible
Yes
Email
<jes AT barbetorium DOT com>
Website
http://barbetorium.com
Facebook
Barbetorium is a Hair Studio on Circle Street. They offer both men's and women's styling.
Comments:
Note: You must be logged in to add comments
---
2008-11-13 19:40:55 An absolutely fantastic experience. The studio is beautifully decorated, the staff amenable and professional. Benn, my stylist, did an amazing job - and gives a heck of a scalp massage. Highly recommended. —alexanderh
---
2009-01-17 13:55:23 Jes, the owner and master cutter, is the genius behind the best haircut I have had in my life. Seriously. I give this salon 1 million stars and recommend it to absolutely everyone; perhaps one of the coolest things about the place is its ability to attract and impress such a diverse range of clientele - from hipsters and prepsters to professors and professionals, oh my!
Both Jes and Courtney are incredibly fun and down-to-earth people: excellence without arrogance.
Plus they offer wine... —Kara

---
2009-02-06 14:03:05 Always awesome! Come early, enjoy a refreshment and relax. You will find impeccable service (they always take your coat, offer beverage/food), a great head massage, and a friend. Jes can do anything, cut, color, updos etc. and you always leave feeling like you look great! Also, he did my wedding parties hair and we all had a great time enjoying champagne and food. Hope you check it out. —ErinSkuce
---
2009-02-25 12:47:39 This is the best salon I have ever frequented, and because of it, I continue to be a faithful customer. The owner, Jes, is quite knowledge, talented, and patient. Also, the atmosphere of the salon couldn't be any more comfortable and serene. In addition, the location and parking are easy to navigate, and the there are other opportunities to shop right inside this location. You won't be disappointed. —DonnaF
---
2009-05-01 15:56:42 Best haircut I've ever had, and I'd never consider going anywhere else again. Showed me the difference between a twelve dollar haircut and a real haircut. —DerekSung
---
2009-08-12 09:40:40 I absolutly love everyone that works at Fusion. The atmosphere is just so inviting and very relaxed. Upon entering you are offered any type of drink you prefer ranging from koolaide to wine, quite a gammet. Andrea G. my stylist is absolutly amazing with her consultaions and cuts. I wont go anywere else but Fusion for a hair cut. And now they have awesome art shows with great music! Whats next!!! —Joshmisla
---
2009-08-12 09:55:26 I'm a regular at fusion and absolutely love it! Each time is an incredible experience over all... I have crazy curly hair and have never really found a stylist that has cut and styled my hair in such a way that I walk away extremely pleased! Andrea.. one of the stylists did a phenomenal job with my hair, she talked with me about what I do to style my hair and how I handle it... which i really appreciated. On top of that, she really knew how to handle my craziness and I was extremely please with the cut and STYLE! She was amazing. I also was served a glass of wine, everyone in the salon in extremely friendly and enjoyable to be around. The entire atmosphere is pleasing and relaxing.. the art is beuatiful, the colors, the set up... it's a gorgeous salon! I absolutley look forward to cuts, waxings, and art shows! Overall the Salon is "Top of the Line." I reccomend it as one of the best in the city!! (and I've tried them all...)~Andrea —Andrea
---
2009-08-13 16:16:56 Going to Fusion Salon has been a great experience for me. The location (Park Ave), the atmosphere of the salon, and my hair stylist (Andrea) is what keeps me coming back. What makes Fusion Salon stand out to me is the personalized time spent on each customer. I couldn't believe how Andrea was so willing to take the time to listen to the style I wanted, explain how she would accomplish the cut, and teach how to style my new cut. So many times at other salons I would come in with a certain idea for my hair, and leave with a completely different style, disappointed. Andrea was eager to accomplish as close she could to the cut I wanted and I love my new look. I always recommend Fusion to family and friends. —Crystal
---
2009-08-19 11:00:08 Fusion is an expirience unlike any other hair salon. The atmosphere is very relaxed and trendy with an outstanding and friendly staff. Andrea my stylist changed my outlook on hair completely, she really took into consideration what would be the best fit for my hair type to match my personal style. I now work at a coffee shop and customers are always asking me where I get my hair done and who does it? There's no where but Fusion for me! Without a doubt check it out. —LeahK
---
2009-08-19 13:46:46 I'm a little suspicious of what's going on here. All comments are raving and all are from one-and-out users. Shilling? —EastSideStephen
---
2010-03-29 11:37:36 So amazing!! Andrea did an amazing job with my hair, I can't wait to go back! —PaigeL
---
2010-03-29 18:08:05 Yeah, EastSideStephen, I think you're on to something. Most other salons don't even have one review, good or bad... —MicahStupak
---
2010-03-30 17:42:27 Absolutely AMAZING! I have never found a stylist that understands my hair and can make it look gorgeous every time! Nico M. will always be my stylist, he is so patient and understanding and has absolutely incredible technique. He is also BEYOND WONDERFUL with is head massages! Every time you walk into the salon you are known as a friend, not a customer. I am always welcomed by every stylist and even the owner, Jes. I have recommended this salon and will continue to send people to Fusion. Phenomenal staff, style, and salon. —JordanBetts
---
2010-05-06 17:09:36 THE best salon experience I've ever had, hands down. I've bounced around between salons since high school because I never really found a place I was comfortable with. I had a disaster of an experience at another salon three days before my sister's wedding last year, called Fusion and Andrea fit me in that night, fixed everything and I've been going ever since. Highly recommend it! —Laurie
---
2010-05-13 22:46:54 Fusion Salon is wonderful! All of the stylists are friendly and welcoming, and of course very talented! Nico has been amazing since day one...professional yet easy going and fun to talk to, and will work with you to find the right style you'll love. You are well taken care of, and you wont stop looking in the mirror when you get home. The salon is modern, featuring great artwork which the stylist are happy to tell you about, and the atmosphere is very relaxing, especially while receiving your amazing head massage. Have your beverage of choice and enjoy!! I would recommend Fusion to everyone! —AndreaC
---
2010-08-03 22:47:11 I have been going to Fusion salon ever since I moved to Rochester (almost 3 years ago now) and refuse to go anywhere else. I love the dynamic vibe of the salon itself - the decor is constantly evolving and it creates a wonderful fresh ambiance for each visit. It's small and personal but not claustrophobic. More importantly, of course, the work of the stylists is great. Andrea does my hair and I've never loved it more. She clearly loves her work and sees it as an art form, not a paycheck. AND, she somehow always seems to be able to create exactly what I want, whether it's with color or just a cut. The salon also gives student discounts! —HalehKadivar
---
2010-08-04 15:35:46 There is nothing to be skeptical about. After living in ROC for 4 years and having hailed from more cosmopolitan locales, I can say that fusion is simply the best in Rochester. Jes (head stylist) is the first person I have ever felt comfortable entrusting my hair to, meaning that I give him a vague idea of what I'm looking for and he creates something accordingly. The results always bring compliments. —KristinaWilson
---
2010-08-26 10:28:48 I've been going to Fusion on and off for nearly nine years now, and I can't speak highly enough of the place. The hospitality and the overall experience set this place apart from any other salon in the city. Everyone that works there is friendly and outgoing. Kudos to Jes and his team for making my hair interesting. Well, to me, at least. —RichDeTommaso
---
2010-12-10 10:23:21 The atmosphere is funky and welcoming. The stylists and the owner are very friendly and warm. The haircut is the best I've ever had. Seriously! I made an appointment based on the positive RocWiki reviews and hoped for the best. Every small aspect greatly exceeded my expectations! I am a Mama of 2 babies (age 2 and under) and I went in because I was feeling frumpy, old and needed to update. I wanted something that fit my exhausting lifestyle but still looked cool. Andrea, who is one of the most intuitive stylists I've ever met gave me a totally funky but very functional cut and easily maintained new look. She then repeated the experience when I went back for color. Andrea really listened to what I wanted and combined it with what I really needed (function-wise). So worth it! —KellyBell
---
2011-07-05 10:23:51 Andrea is the best stylist that I have ever had. Hair styling has never been my strength, and for years I wished I had a stylist who could just tell me what works for me, based on my facial shape and hair type. That kind of thing just doesn't come naturally to me. Well, Andrea has been a godsent. She suggested some styles that would work for me based not only on my facial shape and hair, but also on the type of lifestyle that I lead. I love my new hairstyle. Andrea not only knows hair, but she has a natural talent for seeing what looks best on any individual person. I am highly impressed with her and with the quality of the salon. I highly recommend both.
---
2011-07-07 20:40:04 Really awesome place. As far as hair goes, best place I have gone in Rochester...by far. As a man I can say, Jes really knows about mens cut and style. He has an eye, believe me when I say this. He is knowledgeable, TALENTED, helpful and kind, a really awesome guy. The place is fantastic too. Everyone make you feel WAY in your comfort zone. Grab something to drink (beer, wine, water, whatever), read a magazine and they always play good music. You actually want to hang out here. Which is awesome because they also hold events. The shampoo and hot towel treatment is the icing. Check this place out for sure. You'll be glad you did. —Drew
---
2011-07-19 06:46:15 An amazing salon and an even more amazing experience. I highly recommend it to everyone. Jes, the stylist I worked with, is one of the best I have ever worked with . . . and I typically have horrible experiences finding a salon and stylist that I liked. He listens to what you want and then sets out to give you that style and look. He understand trends, cuts well, and has a great eye.
I trusted Jes with my pre-wedding haircut, and he exceeded my expectations. It was one of the best cuts I've ever had, and the style was exactly what I wanted. It fit me — stylish and modern without being too trendy.
The salon is charming, and everyone there is warm and welcoming. They offer a beverage upon arrival and then provide a hot towel and scalp massage. There is is good music on and a great selection of productions.
Check it out — it is truly an exceptional salon. —KBPhilly

---
2011-08-11 14:37:37 My first visit was today and I am in love with everything about it. The people are friendly and amazing, the products are great for your hair, and you arent treated like just a client. I would tell anyone to go , and I love my hair and the experience. Thanks andrea! —nicolelacrosse
---
2012-03-19 23:28:11 Jes the master stylist has been doing my hair for a number of years has maintained his unique style and always kills it and makes u feel unique yourself when u walk out. The amount of time, energy, training and work Jes has put in to Fusion makes me feel proud to be a client. Jes has handpicked hardworking, creative and talented individuals to be a part of the Fusion team and I feel confident for any one of them to make me feel the same way Jes does. Josiah has a passion for the straight razor and it shows. If you're a guy and looking for a chill relaxed place to get a sick haircut, shave or other amenities Fusion is the place to go. —KevinJSimms
---
2012-04-19 11:22:07 I moved to Rochester in August, right on Park Avenue. I'm sure some of you know how many salons park ave has so there's quite a bit of over saturation in the market, so I had no idea who to go to. Well, just my luck my girlfriend chose fusion to get her hair done and she was informed about how fusion has a barber, something I was looking for. So, I made an appointment with a guy named Josiah, didn't know what to expect at all. When I went there for my cut, I was instantly welcomed by everyone there. They gave me a beer, took my jacket and I sat down with the best barber I've ever been to. Every two weeks since August I know I can expect the best from Josiah, and I can also expect some laughs and some great hospitality from the owner Jes and the other stylists. I can't see myself going anywhere else while I'm Rochester because of the relationships I've developed there and for the experience. —LoganHeaney

---
2012-05-12 19:11:21 Simply awful. It may fool you when you first walk in, but the owner, Jes, is an absolutely awful person. He lies, cheats, and steals, not only from his clients but his employees. I was even told the completely absurd rumor that I had had "relations" with him, when it couldn't be further from the truth. Do not go here, there are much better salons in Rochester. Jes may have been someone worth seeing in the past, but he is past his prime and does not seem to even care anymore. —fusionsucks
---
2012-05-12 22:09:32 We've got a ton of bubbly, over-the-top positive reviews and one very, very negative one. Interesting. —EileenF
---
2013-01-20 23:12:33 In a business in which my hair is potentially visible to all of Rochester at any given time, I trust only Jes and the crew at Fusion.
I moved to Rochester from the San Francisco Bay Area nearly a year ago, and struggled to find a place that not just gave me the looked I desired, but the overall atmosphere and experience to make monthly appointments enjoyable. Nevermind the fact that you can have a cold adult-beverage while you wait, but the cozy confines at Fusion provide an awesome combination of upscale and rustic, and the artwork rivals that of any private gallery.
All of this, of course, would mean nothing without the personalities of the crew itself. Jes, Nico and Andrea are as good at making you feel at home as they at sculpting your look.
I continue going back, and highly recommend it to all my friends! —JonDoss13WHAM

---
2013-01-21 20:33:28 I have nothing but great things to say about the stylists at Fusion Salon. When I first came to Rochester I went to a couple different places, but none of them impressed me or made me feel more at home than Fusion. My stylist, Jes, is so incredibly knowledgeable, personable, and talented. Jes not only focuses on his salon, but he has a passion for our community as well. They open their doors during every Park Ave festival and hold educational classes about everything from blow drying techniques to styling tips. I highly recommend Fusion Salon. —ChristineVanTimmerenNews10NBC
---
2013-06-07 13:56:31 A top notch salon with a friendly and relaxing atmosphere. Andrea Bonawitz is very competent at both coloring and styling, and makes valuable and creative suggestions to complement my initial thoughts. She is also very at ease while she works, which helps me to relax also. —MkS
---
2015-09-12 21:15:31 I moved to Rochester four years ago to work as a sports anchor at a local TV station. I was looking for someone who understood that a sharp hairstyle was important to my confidence and profession. From day one Jes was willing to not only give me the best looking cut, but also make suggestions to improve my look - he truly cares about people. Jes treats me as a friend, not a client. In fact, all of the employees at Barbetorium are great people. The atmosphere is fun, the customer service is top notch. Jes has a passion for his business that is to be admired and it reflects in his work. Every time I walk out of Barbetorium I know I received the best cut in Rochester. —justing