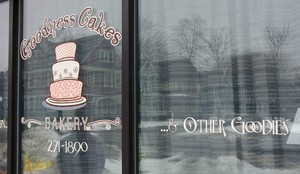 Front window, 3-2008 DottieHoffmann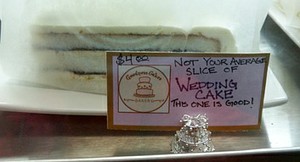 Jennifer Cisney
Location
720 University Ave, Rochester NY, 14607
Hours
Wednesday-Friday: 11:00AM to 7:00PM
Saturday: 11:00AM to 6:00PM
Sunday: 11:00AM to 4:00PM
Phone
585 271 1890
Accessible
Info Needed
Reviews
2008-02-26 Jennifer Cisney's Blog
Goodness Cakes is a bakery offering cakes for ANY occasion and pastries in the Neighborhood of the Arts. Specialties include mini-cupcakes, wedding cake, by the slice, and other goodies.
Nick and Bethany Soures, the owners, opened Goodness Cakes in February 2008 when the photos were taken by Jennifer Cisney 1.
Photos
Comments:
Note: You must be logged in to add comments
---
2008-03-11 20:38:52 Picked up some goodies from Goodness Cakes this evening after work. The miniature cupcakes were delectable. They also sell miniature eclairs, can you tell I like tiny food? I purchased two slices of incredible cake as well. One of the cake slices was a single slice of wedding cake. The owner was very sweet (imagine that! in a bakery!) and helpful. Reasonable prices and fantastic product. I sincerely hope they do well. —KimBee
---
2008-04-10 22:46:31 The owners are very sweet and obliging. Their prices are a bit steep (eg. $25 for an 8 inch 'wedding' cake) - but the cake was very good. I must say that I wasn't a fan of the carrot mini cupcake I tried - I prefer a denser carrot cake..this was light and fluffy. However, it is still a great addition to the Park Ave area. —OneLove
---
2008-06-01 11:52:16 My Fiance and I just went to Goodness Cakes....and it was fantastic! We knew right away that Goodness Cakes was going to make our Cupcake Cake for our wedding in 2009. We sampled their specialty, a vanilla bean cake...and it was like heaven. So delicious! The owners, Nick and Bethany, are extremely accomodating and you can tell right away they pay attention to detail. The other great thing was they are very reasonably priced when compared to some other well known bakeries in Rochester. If you are getting married or planning another event here in Rochester, I strongly suggest you check out Goodness Cakes! —JeffandDanielle
---
2008-07-15 07:58:23 The owners are very pleasant and helpful, and the cakes are expensive, but really good. —RottenChester
---
2008-12-27 09:51:45 Excellent mini-cupcakes and very friendly service. I will be back! —figgyvalentine
---
2008-12-29 22:58:41 Delicious cake and very friendly owners. Tiny space and not a lot of choices, but excellent dessert options. —MrRochester
---
2009-04-08 10:17:43 Bethany and Nick preparied a wonderful range of delectible sweets for a event we recently sponsored. Yummy and attractive at the same time — we were very pleased and it helped to make our event a success. —Sheridan
---
2009-05-24 22:27:45 Stopped by to get a cake to welcome new neighbors and ended up getting, in addition, the Orange Cocoa tort to split with my wife. The tort was decadent and rich. Loved it! Based on that trial we will return for more. —ScottHendler
---
2010-02-23 18:18:57 Jennifer Cisney has some great photos on the referenced blog, Sent her a note via Facebook to see if she will share them with us (:>) —BradMandell
---
2010-02-28 20:58:52 Their Red Velvet cake is so good. I love the hint of cinnamon in the frosting. Their Afternoon Delight cake (for chocolate lovers only) was worth every cent. The owners are absolutely delightful and are open to suggestions. I love finding an excuse to buy a cake from there! —OneLove
---
2010-02-28 21:20:31 I bought a cake for my wife's birthday and it was very good. Of course we had to get some extra things too. —RxScabin
---
2011-06-11 13:46:00 I live in NOTA and I bring my little niece here every time she comes for a visit! We love the service and the product!
---
2012-03-29 04:53:39 Goodness Cakes has done a fabulous job! The buttercream frosting is not too heavy, not too sugary - a perfect creamy combination. Bethany worked with my sister for her wedding and rehersal cakes and did a great job- presentations and samples were phenomenal. My experience with dessert fare at weddings has been dried out, bland semblances of a sweet. I'm not a dessert person, not a lover of all things chocolate <gasp!> however, the experience thus far with Goodness cakes has been nothing short of a breathe of fresh air. They even provided for a Cake Reveal Party for my sister as she is now pregnant. (It's a boy!) The cake was beautifully done. I certainly intend to head back for a birthday cupcake for my partners birthday dessert. It's great they are open on Sunday. —NightlifeCher
---
2012-08-17 16:22:35 They made a very beautiful cake and cupcakes for my daughter's graduation party. The cake was very tasty. It was of high quaiity in all ways. Goodness Cakes was very helpful when we were deciding what to get. I have used them before and will again. The guests raved about the cake. —rxscabin
---
2014-02-19 18:28:41 I love this place! Excellent Nutella treats as well as small cupcakes for a little treat! —jcs3636
---
2015-10-05 12:46:44 For several years this is our go-to for birthday cake. Perfect size for the 4 of us and just really superior. We live in the neighborhood and walking the dog frequently involves getting a mini cupcake - for under a dollar! —JonGreenbaum
1Permission to use photos granted in Feb 24, 2010 message: "Certainly you may use my photos! Thank you for asking!"