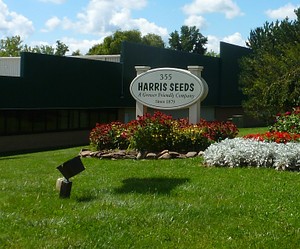 Corporate headquarters in Chili.
Location
355 Paul Road, Rochester, NY 14624-0966
Phone
800 544 7938
Email
<gardeners AT harrisseeds DOT com>
Website
http://www.HarrisSeeds.com
Harris Seeds is a company that was founded in and is still headquartered in the Rochester area. At one time it operated several local retail gardening stores.
Harris Seeds began its catalog operation in 1879. It evolved from the efforts of Joseph Harris, an English immigrant who became extremely successful in the selection of superior strains of vegetables and grains. Joseph Harris settled in the Genesee Valley region of Western New York in the 1850s. His success as a seedsman led to the beginning of Harris Seeds in 1879. The company became widely popular because of his basic business philosophy – "offer my customers a quality product at a fair price and they will return."
Harris Seeds was managed by a succession of Harris family members for 100 years. Joe Harris, the last of the company managers, was chiefly responsible for an introduction of a wide selection of exceptional quality vegetable hybrids. Many of these hybrids remain as leading cultivars in the professional and home garden marketplace. Excellence in plant breeding was a key factor for the company's success during this century.
With no Harris family members to continue with the business, Joe Harris sold the company to a large corporation in 1979. It finally found its way back into private ownership in 1987 and continues today under the guidance of long time Harris employees.
Today, Harris Seeds sells treated, untreated, and certified organic vegetable and flower seeds and plants and growing supplies to gardeners and professional growers throughout the USA through its website. Harris Seeds conducts extensive vegetable and flower variety trials in Rochester as well as many other areas of the Northeast. A germination lab inside its Rochester facility ensures that the seeds it sells are of the highest quality. Members of the Harris Seeds staff travel throughout the country and Europe, selecting the finest of the new varieties of vegetables and flowers for sale to its customers. Five professional sales representatives call on professional growers in the East and Midwest. In addition, Harris Seeds works with local schools in cooperation with horticultural education.
Harris Seeds is an active member of the American Seed Trade Association, the National Garden Bureau and the Mail-order Gardening Association.
Comments:
Note: You must be logged in to add comments