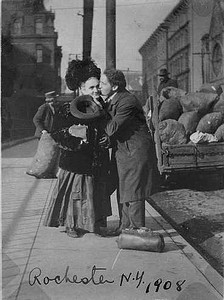 Houdini and his mom. 1908 Harry Houdini, the famous magician, daredevil, and Spiritualist exposer, performed in Rochester in 1907. The event was his first manacled bridge jump and enjoyed by a crowd of thousands. He leapt from Weighlock bridge and emerged from the water within fifteen seconds.
Following the jump he noted in his personal diary: "Ma saw me jump!" - see photo at right.
The event was filmed, and archival footage of this performance allegedly exists at the George Eastman House.
Notes and References

Harry Houdini on Wikipedia


Event record on Houdini Reappears Blog


Harry Houdini, A Magical Life - web page has excerpt from book that confirms some of the above information. "While in Rochester, New York, in 1907, Harry performed his first Manacled Bridge Jump. ("Manacled" is another word for "handcuffed".) The scene was the Weighlock Bridge. Thousands began gathering beforehand to see Harry, shackled in handcuffs and chains, jump into the water far below. Harry waited till the crowd was silent, then took a deep breath...and leaped off the bridge. ... The onlookers held their breath. Would Harry free himself or would he drown? Fifteen seconds after Harry hit the water, a bare arm thrust up above the surface, holding the open cuffs. He'd done it!"