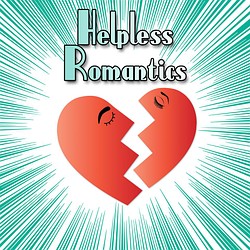 Logo
HELPLESS ROMANTICS
Helpless Romantics is a podcast hosted by local stand up comedians Sam LiButti and Andrea Springer.
The podcast begins by reviewing The Pick Up Artist, a short lived VH1 reality show about turning "dorks" into studs as they are taken under their wing by a "pick up artist" The show will eventually showcase other such bad reality programs on a range of topics surrounding people getting bad dating advice.
There are occasionally random off the cuff episodes unrelated to the main theme. Some listeners might be more inclined to start on Episode 4 "Random One Off Episode! (Get to know us)" if they want to get to know both of the hosts before they dive into The Pick Up Artist discussion, as that episode serves as a fun and weird introduction to both of the hosts as people and comedians aswell as giving background on their relationship.
It can be found anywhere podcasts are available.